JOHN P. MANFREDI, LCDR, USN
From USNA Virtual Memorial Hall
Lucky Bag
From the 1952 Lucky Bag:
Loss
From an email from Jerrold "Zack" Zacharias on 2017.05.04:
John Manfredi was in an F-4 Phantom squadron on Forrestal and they were scheduled to do some night intercept work with one of the destroyers. I was the Air Wing Operations officer at the time and John had some concerns about the operation. So we had a meeting the afternoon before the flight to cover the procedures and any questions that John had. He was catapulted off the forward cat that evening and it appeared that he over-rotated the aircraft on launch, it stalled, flipped upside down and hit the water inverted in front of the ship. John Manfredi's wife and kids were over in the Med at the time and we had to notify them that John had been lost. That was a tough one.
John was lost when his F-4 Phantom II crashed on November 26, 1965 immediately after taking off from USS Forrestal while operating in the Mediterranean Sea. The other crewman was also lost.
John was survived by his wife and is buried in Arlington National Cemetery. (Note: as of April 1, 2017 the picture on that site was of a different gravestone.)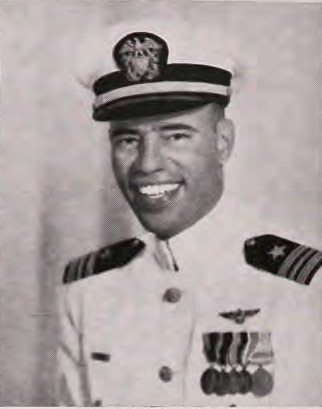 From the February 1966 issue of Shipmate:
LCdr. John P . Manfredi, USN, was killed in an aircraft accident on 26 Nov while piloting a Phantom F4B assigned to the USS FORRESTAL in the Mediterranean. Memorial services were held on board the carrier.

LCdr. Manfredi was born in Brooklyn, N. Y. He received a fleet appointment to the Naval Academy, from where he was graduated in 1952. After flight training at Pensacola he was designated a naval aviator in June 1954. His tours of duty included Fighter Squadron Thirty-One, from Sept. 1954 to April 1959; the Advanced Training Command at Chase Field and Corpus Christi, Tex., from May 1959 to July 1962, and the Naval War College at Newport, R. I., from July 1962 to June '63.

After completing Replacement Pilot Training at Key West, Fla., he reported to Fighter Squadron Seventy-Four in March 1964 as operations officer. He is survived by his widow, Terry, and their children Sharon Ann, 12, Sherri Ann, 11, and Terri Lee, 9, who were in Naples, Italy, en route to meet him at Malta at the time of his death.
Other
He graduated the Naval War College in June 1963.
Class of 1952
John is one of 50 members of the Class of 1952 on Virtual Memorial Hall.
The "category" links below lead to lists of related Honorees; use them to explore further the service and sacrifice of the alumni in Memorial Hall.