Difference between revisions of "KENNETH J. WESSEL, LCDR, USN"
From USNA Virtual Memorial Hall
 

m (1 revision imported)

 

(19 intermediate revisions by 3 users not shown)
Line 1:
Line 1:
−

== Lucky Bag ==

+

====

−

From the [https://archive.org/details/luckybag19722unit 1972 Lucky Bag, Volume II]:

+

 

 
+

https://archive.org/details/1972

 
+
 
+
 
+

,

 
+
 
+

 

 
+
 
+
 
+

]

 
+

 

 
+

:

 

<blockquote>

 

<blockquote>

−

KENNETH JAMES WESSEL

+
 
 
−

The "Weasel" or just plain "Weas," whose nickname fits him perfectly, arrived at Navy, bright eyes and fuzzy cheeked and fresh from high school in Alexandria, Virginia. The young aspirant's first weeks at the Academy were pretty rough. Plebe summer his roommate decided he didn't like the hairstyles and went home leaving Weasel with a private room for almost a month. Never a canaidate for the Ac Board (though he seemed to be trying like crazy) Weasel always had time for football, a quick game of pinochle, or a little rack. Except for a few short (but fulfilling) romances, Weasel's main love has always come in a pop top can. After graduation Weas is hoping on a destroyer for two years, and then intends to take Pensacola by storm. All in all, the Navy's going to gain a fine officer in Weasel (unless prohibition comes back).  

+

from , he with the of and to . a .

 
 
 
+
 

</blockquote>

 

</blockquote>

 
+
 
+
 
+
 
+
 
+
 
+
 
+
 
+
---
Latest revision as of 11:23, 20 December 2019
Lucky Bag
From the 1972 Lucky Bag:
Loss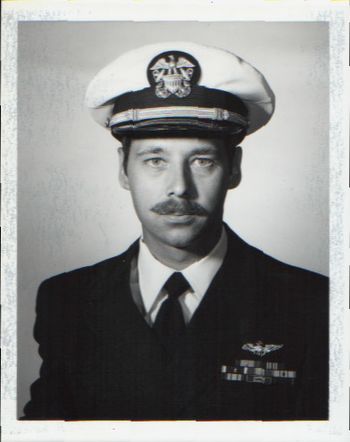 Kenneth was killed when the UH-1 Huey helicopter he was piloting crashed off the coast of Virginia Beach. Three others escaped. He was serving as the aircraft handling officer aboard USS Inchon (LPH 12) at the time of the crash.
From the December 1981 issue of Shipmate:
LCdr. Kenneth James Wessel USN was killed in an aircraft accident on 28 September 1981 when his UH-1N Huey helicopter which was on a training mission from the amphibious assault ship INCHON crashed off Virginia Beach, Virginia. Three other crewmen were rescued. Memorial services were held on 3 October in Norfolk.

Appointed to the Naval Academy from the State of New Jersey, he was graduated with the Class of 1972 and after sea duty was ordered to flight training. After designation as naval aviator he became a helicopter pilot.

He is survived by his widow, the former Mary Ann Riley of Newark, Delaware, and three children; his parents, LCol. (USAF Ret.) and Mrs. Carl Wessel of Ocean City, New Jersey; four brothers and a sister.
Class of 1972
Kenneth is one of 13 members of the Class of 1972 on Virtual Memorial Hall.
The "category" links below lead to lists of related Honorees; use them to explore further the service and sacrifice of the alumni in Memorial Hall.