KENNETH M. MCBRAYER
From USNA Virtual Memorial Hall
Lucky Bag
From the 1974 Lucky Bag:
Inclusion in Memorial Hall
Though he is included on this website, Kenneth was not on active military duty the morning of September 11, 2001, and is not listed in Memorial Hall.
Loss & Biography
McBrayer was a Georgia native who loved the water. He graduated from the Academy in 1974 and spent five years in the Navy as an engineer on several ships, including the aircraft carrier SARATOGA. He divided his time between Manhattan, NY, and DC, where his wife lived and went to law school. Both loved sailing on the Chesapeake Bay. He was at work on the 104th floor for Sandler O'Neill + Partners of Two World Trade Center when the plane hit.
Remembrances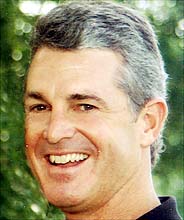 From Legacy.com:
Before the planes hit that day, Kenneth M. McBrayer had already called his wife, Marsha, three times. That was the usual pace of their long-distance arrangement, with him living in New York City, and working at Sandler O'Neill & Partners, during the week, and then joining her on the weekends in Washington, where she is a third-year law student at George Washington University.

"We were just very close," she said. Even when they had lived in the same city, it was not uncommon for them to talk by phone about 10 times a day. She saved the last message he left her, and for the past seven months has been playing it over and over again: "Hey, babe. Just checking on you. Nothing special."

Mr. McBrayer, 49, grew up in Georgia, and was an accomplished student and athlete. "He was always a committed kid," said his father, Max McBrayer of Alpharetta, Ga. "Everything he did he tried to do it the best he could."

Married since 1990, Kenneth and Marsha thrived on making each other happy, she said. They were living in New York when she decided to go to law school. She told him she would go to Fordham University, to keep her close to home. "He said, `No, go to the best law programs,' " she recalled. "He was that kind of guy. He was happiest when something good happened to me."
Kenneth is one of 8 members of the Class of 1974 on Virtual Memorial Hall.
The "category" links below lead to lists of related Honorees; use them to explore further the service and sacrifice of the alumni in Memorial Hall.