Difference between revisions of "LAWRENCE D. GOSEN, LCDR, USN"
From USNA Virtual Memorial Hall
---
Revision as of 09:52, 14 March 2017
Lucky Bag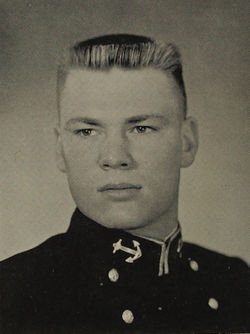 From the 1959 Lucky Bag:
LAWRENCE D. GOSEN

Twenty-second Company

Mountain Lake, Minnesota

Larry came to USNA from the Land of Ten Thousand Lakes. After being a three year letter-man in high school, his athletic ability and competitive spirit were big boosts to the various teams he was on. Although he was a "red-mike" for four years and Carvel Hall was unknown to him, his acquaintance with the young ladies made the weekends pass very quickly. His easy going nature, along with his attitude was a source of inspiration to those around him and should take him far in his years ahead in the Corps.
Obituary
From Wall of Faces:
Lawrence Dean Gosen was born on February 4th, 1938, in Windom, Minnesota, the seventh son and the youngest of a family of 12 children. Larry grew up on a farm near Bingham Lake, Minnesota, and graduated from Mountain Lake High School with honors in 1955.

After an active high school career, which included captaining the football team, participating in music, declamation and many other activities, Larry entered the U.S. Naval Academy at Annapolis. In 1959, after graduation from the Naval Academy, Larry entered pilot training and earned his pilot's wings 1960. His first love was flying jet fighters and he served in several carrier groups prior to attending the Pacific Grove Training School, where he earned a Master's degree in electrical engineering. Prior to his assignment on the USS Ticonderoga, he taught electronics at the Naval Academy for two years.

While in Vietnam waters, serving with the Attack Squadron 23, Larry was promoted to Lieutenant Commander. Larry was killed on July 23, 1968, when his plane crashed while taking off from the USS Ticonderoga. This was to be his final mission before his scheduled return to his home port of San Diego.

At the time of his death, Lieutenant Commander Gosen was survived by his wife, Patricia; son, John; daughter, Stephanie; parents, Jason and Sara Gosen; six brothers and five sisters. Twin daughters Kriss and Leigh, were born shortly after his death. Richard Gosen, brother
Remembrances
From Virtual Wall:
Larry Gosen was my roomate during the TICONDEROGA (CVA-14) cruise and I was his flight leader for the flight on which he was killed. An A-4F which was assigned to VA-23 during Larry's tenure with the squadron has been located, restored to original appearance including being painted in VA-23 colors, and will be dedicated to Larry and LT Stan Smiley. LT Smiley was assigned to VA-23 and was killed in action on the USS ORISKANY (CVA-34) cruise subsequent to the TICONDEROGA cruise. Both men were fine officers who gave their lives for their country while flying in combat.

Respectfully from a squadron mate,
William Fuller Gilchrist, LCDR USN (Ret)
15150 Andorra Way, San Diego, Ca 92129
a4driver@san.rr.com
13 Apr 2005
The A-4F he mentions is aboard the USS Midway museum in San Diego, California.
I am proud knowing of my father. God has given him a great calling which he loves to fly and be able to serve in U.S. Military at the same time. I want to acknowledge and thank all men and women who have gone out on the duty to make the difference at that time, and took care good of my father, Lawrence Dean Gosen, and cheered him while away from home, and been with him when he died, not alone.

I thank you, the USS MIDWAY Museum of San Diego for bringing my father's love, his airplane on display to show how much he loved the plane and had been proud to serve as the pilot and being on the carrier USS TICONDEROGA.

From his son,
John Gosen
daddy9646@sbcglobal.net
29 Nov 2005
Family
From Find A Grave:
Father: Jacob D. Gosen (1890-1982)
Mother: Sarah Wiebe (1895-1994)

Married: 2 Jul 1960 to Patricia L. Taylor

Children: John, Stephanie, Leigh Elizabeth, Leslie Kristine.

Siblings: Elmer, Abram, Kathryn Louise, Albert, Jacob "Jack", Raymond Henry, Sara Marie, Richard Paul, Louise Elizabeth, Dorothy Jean, Darlene Jane
Memorial Hall Error
Larry is listed as killed in action by the Department of Defense — he appears on the Vietnam Veterans Memorial in Washington, DC — but he is not listed on the Vietnam killed in action board in Memorial Hall.