LOUIS H. MAXFIELD, CDR, USN
From USNA Virtual Memorial Hall
Lucky Bag
From the 1907 Lucky Bag:
Loss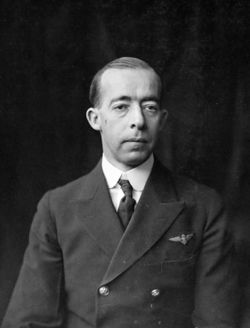 Louis was lost on August 24, 1921 when the British-built airship R-38, intended for US Navy use as ZR-2, crashed near Hull, England. Forty-four of the 49 men aboard died.
From Together We Served:
Comdr. Louis H. Maxfield, U.S.N., who was in charge of the U.S. Rigid Air Detachment in training at Howden, and who was to be the Commanding Officer of the ill-fated airship on the flight to America, was born in 1883 at St. Paul, Minnesota. He entered the Naval Aviation service in 1914, and was promoted to Temporary Commander in 1918. During the War he was in command of the U.S. Naval Station at Painbaeuf, France, and served with distinction. During a flight in the French airship "Capitaine Caussin" he dived overboard from a great height and rescued an enlisted man who had fallen overboard. Comdr. Maxfield was decorated by the Italian Red Cross with a silver medal for distinguished work during the Messina earthquake, with the French Naval Life-saving Medal (Silver), was an Officer of the Legion of Honour, and was decorated by the U.S. Government with the Navy Cross and the Victory Medal.
He was designated Naval Aviator #17 (LTA) in 1915.
Louis was survived by his wife and two children; he is buried in Arlington National Cemetery.
Related Articles
Valentine Bieg '10, Emory Coil '12, and Henry Hoyt '14 were also lost when ZR-2 crashed.
Memorial Hall Error
The Lucky Bag, his headstone, and all contemporary references spell his name "Louis." Memorial Hall has "Lewis."
Louis is one of 13 members of the Class of 1907 on Virtual Memorial Hall.