MARIO D. CARAZO, LTCOL, USMC
From USNA Virtual Memorial Hall
Lucky Bag
From the 1991 Lucky Bag:
Shipmate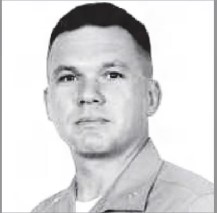 Via USNA '91:
Lieutenant Colonel Mario "Sugarbear" Carazo, USMC, was lost to enemy action in Afghanistan, on 22 July 2010. His AH-1W Cobra was shot down while supporting Marines engaged in a firefight. He was 41 years old.

Born on 25 May 1969 in Inglewood, CA, to Alvaro and Ana Carazo, Mario entered the Academy where he graduated in 1991, with a B.S. in history, as a member of the 19th Company.

Mario went on to fly the AH-1W Cobra with the World Famous HMLA-369 "Gunfighters" at Camp Pendleton, CA. He did two Marine Expeditionary Unit (MEU) deployments, followed by a tour as an instructor at the Fleet Replenishment Squadron. He attended the Amphibious Warfare School in Quantico,VA, and then went back to Camp Pendleton for another tour as a "Gunfighter." "Sugarbear" attended the United States Naval War College, Newport, RI, as a Major, where he received a M.A. in national security and strategy. He was not satisfied with one M.A., so he attended the School of Advanced Warfighting in Quantico and received his second in Operational Studies.

He took this newly found knowledge, and as only he could do, applied it on another deployment—in Operation Iraqi Freedom. He was promoted to Lieutenant Colonel in December 2007 and returned from Iraq in August 2008 to Camp Pendleton, becoming the executive officer of MAG-39, and ultimately the commanding officer of Headquarters Squadron 39. He then deployed to Helmand Province, Afghanistan, in support of Operation Enduring Freedom.

Mario spent his life focusing on taking care of the people in his life. There was always the "Sugarbear" smile to pick you up, or the "What's going on, kid," to begin a bull session, but there was the certainty that he would do whatever was possible to ensure the safety and well-being of everyone he cared about—his family, both immediate and extended.

He is survived by his wife, Jennifer; their son, Mario, and daughter, Milla; his parents, Alvaro and Ana; his brother and two sisters, Alvaro, Ana, Sandra and their families. Mario was interred with full military honors and an AH-1W fly-over at the Fort Rosecrans National Cemetery in San Diego, CA. The family has established an education fund for the children, "Carazo Education Fund," at California Bank & Trust, 1127 Wall Street, La Jolla, CA 92037.

Shipmate, September-October 2010
Obituary
From The Los Angeles Times on September 5, 2010:
From the time he was a toddler, U.S. Marine Corps Lt. Col. Mario Carazo always dreamed of flying. As he grew older, he was able to meld that passion with his deep patriotism and fiercely protective instincts when he joined the Marines and trained as a Cobra helicopter pilot.

So when Carazo, 41, of Carlsbad, was shot down and killed while flying a combat mission over Afghanistan on July 22, his grief-stricken family and friends took a measure of comfort in knowing he died doing what he loved best.

"He always wanted to be a Marine serving his country and protecting those he loved," said Robert Barry, his former roommate at the U.S. Naval Academy, who retired from the Marines in 2005 and now serves as a manpower analyst at the corps' headquarters in Virginia. "While I am extremely sad, I know he didn't go down without a fight and he went down doing what he always wanted to do."

Carazo, an Inglewood native, was the youngest of four children and the only U.S.-born member of his Costa Rican immigrant family. He could not speak English when he entered school and initially struggled in class, according to his wife, Jennifer.

But his competitive nature drove him to study hard. He graduated from Cerritos High School in 1987 and earned an undergraduate degree in history at the United States Naval Academy in 1991. He went on to earn two master's degrees in national security and strategy and operational studies. Fascinated by military history, he could spend hours discussing Iran, Iraq and other world hot spots.

He was equally intense in his commitment to the Marine Corps, whose aircraft and bonds of brotherhood strongly attracted him. Barry said he would never forget the time Carazo came to his aid after he lost a navigation device during a Naval Academy training exercise and was chewed out by the company commander. Carazo boldly approached the commander and asked him to cut Barry some slack.

"He always had my back," Barry said, chuckling that Carazo's action only got him into more trouble.

Dave Geier, a family friend in Carlsbad, said Carazo never left his home without some Marine insignia, whether a cap or a camouflage T-shirt. He planned a Marine-style boot camp for his young son's birthday party and arranged children into platoons when he chaperoned school field trips, Geier said.

Carazo was commissioned as a Marine Corps officer in 1991, attended flight training in Pensacola, Fla., and received his Wings of Gold in 1994. He was deployed seven times to Asia and the Mideast, including stints in Iraq in 2006 and 2008.

An AH-1W Super Cobra helicopter pilot based at Camp Pendleton, Carazo had been deployed to Afghanistan's Helmand province in March to help develop operational plans for aviation squads as a future plans officer with the 3rd Marine Air Wing (Forward). But on his last day, Barry said, Carazo was asked to fly. He was providing air cover for an infantry battalion on the ground when he was shot down.

His many military awards include the Bronze Star, Purple Heart and Meritorious Service Medal with gold star. He is buried at Ft. Rosecrans National Cemetery in San Diego.

Despite his military intensity, Carazo was also a happy, positive spirit who loved to dance and was tagged with the name Sugar Bear — his Marine call sign — for his teddy-bear looks, family and friends said.

"He had such a zest for life," Jennifer Carazo said. "He didn't sweat the small stuff."

She said he lived for their children — Mario, 9, and Milla, who turns 7 on Monday — and spent weekends taking them to museums and on frozen yogurt runs and coaching Mario's soccer team.

Jennifer Carazo said he had his entire life mapped out the first time she met him, on a Florida beach more than two decades ago. He knew he wanted to be a pilot, marry a woman just like her and devote his life to public service, she said.

His one unmet goal was to enter politics after completing his military service, following in the footsteps of his role model, Sen. John McCain (R-Ariz.).

"He devoted his life to serving his country," Jennifer Carazo said. "He wanted to make a difference in this world. I truly believe he did, and I tell our children so every day."
Remembrances
From the Naval Academy Alumni Association's "In Memoriam" page:
Mario died doing what he did best...taking care of others. Jennifer Carazo
Class of 1991
Mario is one of 10 members of the Class of 1991 on Virtual Memorial Hall.
The "category" links below lead to lists of related Honorees; use them to explore further the service and sacrifice of the alumni in Memorial Hall.