MATTHEW W. BANCROFT, CAPT, USMC
From USNA Virtual Memorial Hall
Lucky Bag
From the 1994 Lucky Bag:
Obituary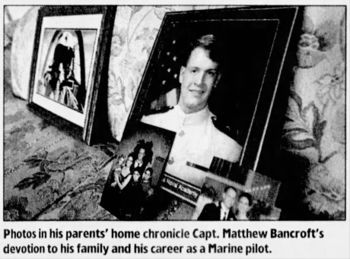 From USNA '94:
Captain Matthew W. Bancroft, USMC, was born on 6 July 1972, in Milwaukee, Oregon. After graduating from Burney High School in 1990, he attended the United States Naval Academy, graduating with a B.S. in Economics and was commissioned a Second Lieutenant in the United States Marine Corps in May 1994.

In August 1994, Second Lieutenant Bancroft reported to The Basic School in Quantico, VA. Upon graduation in January 1995, he reported to Naval Flight Training in Corpus Christi, TX. Promoted to the rank of First Lieutenant in May of 1996, he earned his coveted wings of gold in October 1996. He then received orders to MCAS Cherry Point where he trained in the KC-130 Hercules.

After completing initial training in the KC-130, First Lieutenant Bancroft reported VMGR-352, MCAS El Toro, California in October 1997. He served as Adjutant, Legal Officer, and Flight Duty Officer. In August 1998, he was promoted to the rank of Captain. While with the squadron, he participated in deployments to Jordan, Kenya, Egypt, and Kuwait, in support of Operations Edge Mallet and Eager Mace.

Captain Bancroft made the move with the squadron from MCAS El Toro to MCAS Miramar. After working in the squadron as a Flight Duty Officer, he then transferred to Marine Aircraft Group Eleven where he served as the fixed wing air coordinator.

Captain Bancroft was a Transport Plane Commander, Post Maintenance Check Pilot, and a Section Flight Lead. He had accumulated more than 1500 total flight hours with 1300 flight hours in the KC-130. He is survived by his wife, Mary Ellen, and their three children, Sean, Christian, and Bailey Madison.
Matthew is buried in California; he also has a memory marker in Arlington National Cemetery.
News
From SFGate:
Matthew Bancroft, the Marine pilot who was the first Northern California casualty in the war on terrorism, was remembered yesterday by his 12-year-old stepson as "everyone's hero -- especially to me."

"He was fighting so that we could continue to live in peace," young Christian Johnson, fighting back tears, told 400 mourners inside St. Angela's Church. "He was a wonderful dad, and he helped me with so many things."

Capt. Bancroft, 29, and six fellow Marines perished Jan. 9 when their tanker crashed on approach to a military airfield in southwest Pakistan, a staging area for flights over Afghanistan.

Dry eyes were few inside the stately brick church overlooking Monterey Bay. Bancroft's 9-month-old daughter, Maddie, sat in the lap of her sobbing mother, Mary Ellen, and held a packet of tissues for her. Christian and his 14-year- old brother, Sean, draped arms around their mother on either side.

John Knox, the best man at the Bancrofts' wedding, told the mourners that his friend was "gracious, sincere, compassionate, jovial and very sarcastic."

"When the time came to go (overseas), Matthew said, 'I'll go,' " Knox said. "Two words. So simple, powerful and complete. Do any two words more accurately reflect a Marine?"

Another friend, Mike Balow, said Bancroft loved his family, the San Francisco Giants, his red Pathfinder truck, his hometown of Burney in Shasta County and pickup basketball games. "Your footsteps echo with the heroes who fell at Iwo Jima, Corregidor and Khe Sanh. Semper Fi, Matt. I love you, brother."

Another family friend read a letter from football star Roger Staubach, who had been moved to write the family after learning that Bancroft had regarded him as a hero. "(Bancroft) was the hero," the letter from Staubach said. "He was the hero all of our young people should emulate. I thank you for paying a true hero's ultimate price."

Father Manuel Canal, who presided over the two-hour service, added, "This young man went on a mission that will never end, a mission of peace, justice and love."

Twelve pallbearers, including a Marine honor guard, bore the coffin to the front door of the church, where the white linen draping of the Catholic service was replaced by a U.S. flag.

Then the mourners proceeded under a cold, cloudless sky to San Carlos Cemetery in Monterey, where a Marine detachment fired a 21-gun salute. After a trumpeter blew taps and four jets flew directly overhead in the missing-man formation, a Marine sergeant presented the folded flag and a medal to Mary Ellen Bancroft.

"On behalf of a grateful nation," the sergeant said, saluting, as Mrs. Bancroft clasped the flag to her heart.
From The Sacramento Bee on January 11, 2020:
As Marine, he reached for the Sky
Capt. Matthew Bancroft cherished his family and flying.
By Pamela Martineau

At 6 feet 4 inches, Marine Corps Capt. Matthew Bancroft was too tall to fly the fighter jets he yeanred to pilot since second grade in Burney.

So Bancroft trained in a KC-130 cargo plane instead, honing his piloting skills in a mammoth aircraft his parents called a "bus."

"He was driving a bus," Bob Bancroft, Matthews's father, said of his son's flight missions. "He had a job to do."

Bancroft's parents, who reside in Redding, thought Matthew would be safer flying a "bus" than a fighter jet when he was deployed a month ago to fight in the war on terrorism.

On Wednesday, Bancroft, 29, and six other crew members died when their KC-130, a four-engine turboprop, crashed into a mountain as it approached an airfield in southwestern Pakistan.

Officials said the plane was probably delivering fuel to bases in the region. The accident marks the single largest loss of American life in the 3-month-old war.

For Beverly and Bob Bancroft, the accident claimed the life of their oldest child, a man Bob Bancroft repeatedly, and tearfully, referred to as "such a good kid" Thursday.

"We lost a good person. That's the bottom line," said a tired Bob Bancroft as he held his wife's hand. "I just wish everybody would have had a chance to know him before this."

As details of the KC-130 crash emanated from a television news broadcast in the other room, the Bancrofts put a human face to one of the lives lost in that tragedy. They described their son as a math whiz, a star high school athlete and someone who attained almost every goal he set.

He was a family man who cherished his wife, 9-month-old daughter and two stepsons.

And he was a consummate Marine, they said.

"You know that commercial: 'The few. The proud. The Marines.' That was him," said Bob Bancroft. "He was doing what he loved to do."

Beverly Bancroft said her son began plotting his way into the Naval Academy in the seventh grade, asking his junior high school counselors what courses he should take to be admitted.

Matthew Bancroft graduated from Burney High School with honors in 1990 and was admitted to the Naval Academy that same year. He graduated from the academy in 1994 and immediately entered the Marine Corps.

"He got both of his dreams. To become a Marine and to get a chance to fly planes," said Beverly Bancroft.

When Matthew was stationed at Miramar Naval Air Station in the San Diego area, he would let his parents know when he was flying over Redding, and they would go outside to watch his plane.

Matthew was deployed to South Asia a few weeks after his sister Sarah's wedding. He reassured his parents when he left that he would be safe.

"He said not to worry about him. He had the best training in the world and the best job in the world," said Beverly Bancroft. "He told his wife, 'Don't worry, I'll be home.'"

The Bancrofts received an e-mail from Matthew just a few days before his death. Matthew wrote about his children, saying he hated to miss the first steps his young daughter would likely soon take.

"He lived and died for that daughter," said Bob Bancroft.

Matthew Bancroft lived in San Diego with his wife, MaryEllen, the couple's 9-month-old daughter, Maddie, and stepsons Christian Johnson, 12, and Sean Johnson, 13. Marine Corps officials contacted MaryEllen Bancroft Wednesday with news of Matthew's death. She then called his parents.

Bob Bancroft said he is anxious for officials to release the cause of the accident.

"I'd like to know because I want to know if he did his job right," said Bob Bancroft.

Marine Corps officials said Thursday that there was no indication enemy fire brought down the plane and that the cause of the accident would take time to determine. Defense Secretary Donald Rumsfeld said efforts to recover the bodies were hampered by the difficult terrain.

Bob Bancroft said funeral arrangements for his son have not been set. In the next few days, Beverly Bancroft will fly to San Diego to comfort MaryEllen Bancroft and her children.

Bob Bancroft said his son "dedicated his life to America." But he is adamant that his loss should not be considered any more important than any other parent's loss of a child.

"It makes no difference how they've died. They're still gone," he said.

And the grieving father said that what he will remember most about his son is not his scholastic honors or his prestigious military career, it's his honesty and the "twinkle" the young man carried in his eyes.

"He didn't lie, cheat or steal," Bob Bancroft said. "From my perspective, you don't get any better than that."
Matthew is one of 7 members of the Class of 1994 on Virtual Memorial Hall.
The "category" links below lead to lists of related Honorees; use them to explore further the service and sacrifice of the alumni in Memorial Hall.