MICHAEL G. MCGINTY
From USNA Virtual Memorial Hall
Lucky Bag
From the 1981 Lucky Bag: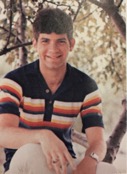 Inclusion in Memorial Hall
Though he is included on this website, Michael was not on active military duty the morning of September 11, 2001, and is not listed in Memorial Hall.
Biography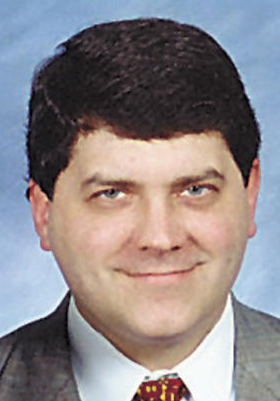 From Legacy.com:
Michael G. McGinty, 42, of Foxboro, MA, died Tuesday, (September 11, 2001) a victim of the terrorist attack on the World Trade Center. He was the husband of Cynthia F. (Sheffs) McGinty.

Born in Wichita Falls, TX on July 11, 1959, he was the son of Sandra McGinty of Texas and the late John McGinty, and had moved to Foxboro, MA from Connecticut in 1994. Mr. McGinty was employed as a senior vice president in the Power Group at Marsh Inc., of Boston and New York as an insurance broker specializing in coverage for the nuclear and utility industries.

A child in an Air Force family, he moved frequently in his younger years, and was educated in a number of different primary and secondary schools. He was a 1981 graduate of the U.S. Naval Academy, and served as a nuclear engineer in the U.S. Navy until 1989, when he was honorably discharged, having earned the rank of lieutenant commander.

He was deeply committed to the faith community at Bethany Congregational Church, where he served as chairman of the board of deacons, was a mentor in the confirmation program, served on two pastoral search committees and was a member of the church's prayer team.

In addition to his wife and mother, he is survived by two sons, Daniel and David McGinty, at home; two sisters, Susan McGinty of Texas, and Erin McGinty of Arizona; two sisters-in-law, Susan Quinlan and her husband Ed Quinlan of West Hartford, and Sally Sheffs of Bristol; his mother-in-law, Lillian Hayes of West Farmington; and a nephew, Connor Quinlan of West Hartford.
Michael is buried in North Carolina; he is also listed at the National September 11 Memorial.
Remembrances
From Legacy.com:
Growing up in an Air Force family, Michael G. McGinty moved many times, so when he and his wife, Cynthia, bought their first house in Foxboro, Mass., he put down roots, planting flowers to attract birds and butterflies, and becoming a chairman of the deacons of the Bethany Congregational Church.

But his great joy in life was being the father of David, 7, and Daniel, 8, Mrs. McGinty said. "I'm the one to say it's time to do homework, but he would come in and it would be a game."

The night before Mr. McGinty, 42, left for a meeting of the global power group of Marsh USA at the World Trade Center, he and his wife had a great conversation where everything clicked, and they felt really good about their family and children. "I'm so glad that's the last conversation we had," Mrs. McGinty said. "I really hang on to that. It could have been about calling a plumber, but it wasn't."
Michael is one of 14 members of the Class of 1981 on Virtual Memorial Hall.
The "category" links below lead to lists of related Honorees; use them to explore further the service and sacrifice of the alumni in Memorial Hall.