Difference between revisions of "MICHAEL R. MARTIN, LT, USN"
From USNA Virtual Memorial Hall
---
Revision as of 10:22, 23 March 2017
Lucky Bag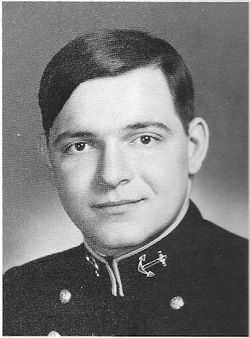 From the 1971 Lucky Bag:
MICHAEL R. MARTIN

Arriving from the Nebraska Heartland, Mike brought with him all the open friendliness of the West. Alert, involved, inherently honest, sometimes pensive, and capable of enormous indignation, Mike commanded respect and admiration. Mike's capacity to be intensely alive, his natural interest, and his lasting dedication assume him of a life both relevant and rewarding.
Loss
USNA '71 lists Mike as an operational loss on October 13, 1979. This date corresponds with a crash of a Navy RF-8G Crusader from Light Photographic Squadron (VFP) 63 that was operating from USS Kitty Hawk (CV 63). It appears that at least part of the entry — that it was operating from CV 63 — is incorrect. There is no mention of the loss in the 1979-1980 cruise book or a news article on other Navy crashes aboard the ship and around the world. Another 1979 cruise book, from USS Ranger (CV 61), also doesn't list Mike. F-8 Crusader In Memoriam, however, does list Mike (in "1980?"), so suspect he was lost in a crash of the RF-8G listed above. This site — in French — confirms the date, confirms VFP-63, and indicates the crash was in San Francisco Bay. The caption of this picture of the exact RF-8G lost also confirms the date, and gives additional information (pre-deployment workups with VFP-63 Det 2 and USS Coral Sea (CV 43)).