PHILIP M. ARMSTRONG, JR., LCDR, USN
From USNA Virtual Memorial Hall
Philip Armstrong, Jr. '53
Date of birth: July 4, 1929
Date of death: June 8, 1967
Age: 37
Lucky Bag
From the 1953 Lucky Bag:
Loss
Philip was killed during the attack on USS Liberty by Israeli aircraft and boats on June 8, 1967. He was executive officer at the time; he is buried in Arlington National Cemetery.
Shipmate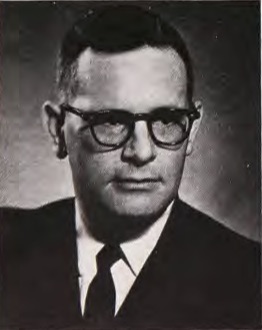 From the September-October 1967 issue of Shipmate:
LCdr. Philip M. Armstrong, USN, executive officer in USS LIBERTY, was killed when the ship was mistakenly attacked by Israeli forces on 8 June in the Mediterranean. Services were held from the Twiford Funeral Home, Virginia Beach, Va., with interment in Arlington National Cemetery with military honors on 16 June.

LCdr. Armstrong, who was born in Detroit, Mich., enlisted in the U. S. Navy in July 1947, and served with Patrol Squadron 23, Naval Air Station, Patuxent River, before entering the Naval Academy Preparatory School at Bainbridge, Md. He was graduated from the Naval Academy in 1953 and served in the destroyer escort MCCAFFERY until June 1955 when he joined the landing ship FORT SNELLING.

In February 1958 he was transferred to the staff of the Commandant, Third Naval District in New York, then had duty in USS BETELGEUS. He served in the Bureau of Naval Personnel for two years, then on the staff of Commander Naval Beach Group Two for operations and plans. In March 1966 he was assigned to the LIBERTY.

Surviving are his widow Marie and five children, Philip M., III, Timothy B., Christopher M., Katharine K. and Elizabeth R. of 131 Cayuga Road, Virginia Beach, Va. 23462; his father, Mr. Philip M. Armstrong of Detroit, two brothers, John and Christopher, and a sister Marjorie Armstrong.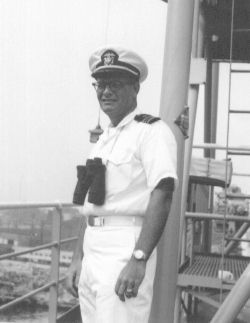 From Hall of Valor:
The President of the United States of America takes pride in presenting the Navy Cross (Posthumously) to Lieutenant Commander Philip McCutcheon Armstrong, Jr. (NSN: 0-569825/1100), United States Navy, for extraordinary heroism in connection with an armed attack on the U.S.S. LIBERTY (AGTR-5) in the Eastern Mediterranean, on 8 June 1967. During the early afternoon hours, the U.S.S. LIBERTY was attacked without warning by jet fighter aircraft and three motor torpedo boats. Subjected to intense incendiary, machine-gun, and rocket fire, and placed in extreme jeopardy by a torpedo hit below the waterline on the starboard side, the U.S.S. LIBERTY sustained numerous personnel casualties and severe structural damage. Serving as Executive Officer, Lieutenant Commander Armstrong was on the bridge when the first strafing attack occurred. A large fire erupted in the vicinity of two 55-gallon gasoline drums, creating the grave danger that the drums might explode and cause a widespread conflagration. Lieutenant Commander Armstrong fearlessly exposed himself to overwhelmingly accurate rocket and machine-gun fire while proceeding to jettison the gasoline drums and organizing a party of men to extinguish the blazing lifeboats nearby. At this time, he received multiple injuries which proved to be fatal a few hours after the attack terminated. By his aggressiveness, composure under fire, and inspiring leadership, Lieutenant Commander Armstrong upheld the highest traditions of the United States Naval Service.

General Orders: Authority: Navy Department Board of Decorations and Medals
Action Date: 8-Jun-67
Service: Navy
Rank: Lieutenant Commander
Company: Executive Officer
Division: U.S.S. Liberty (ATGR-5)
Philip is one of 62 members of the Class of 1953 on Virtual Memorial Hall.
The "category" links below lead to lists of related Honorees; use them to explore further the service and sacrifice of the alumni in Memorial Hall.