RANDY J. RICKEY, LT, USN
From USNA Virtual Memorial Hall
Lucky Bag
From the 1973 Lucky Bag: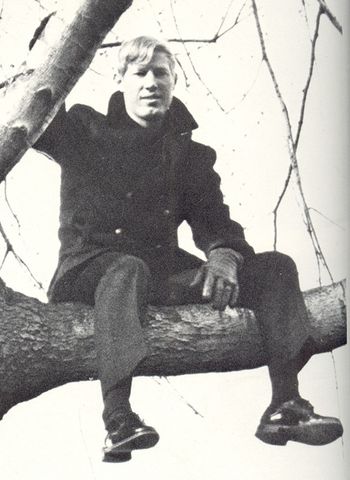 Randy Joe Rickey
Pinellas Park, Florida
Randy's career at Navy has been a series of ups and downs. Rising from the position of infantryman 1/c plebe year, Randy's never ending search for a good time earned him membership in the Charterhouse 7.
Loss
From researcher Kathy Franz:
Randy was nominated for appointment to the Naval Academy by Rep. William C. Cramer, R-Fla.

On October 16, 1977, Randy was part of a U.S. Navy and Marine force taking part in a training exercise on Mindoro Island in the central Philippines. He was assigned to Fleet Composite Squadron 5, at the air station near the U.S. Subic Bay Naval Base. While trying to land his A4 Skyhawk at Cubi Point Naval Air Station 50 miles west of Manila, he was forced to bail out. His body was recovered.

The exercise named Fortress Lightning involved almost 20,000 U.S. serviceman – about 6,500 Marines and 13,000 sailors manning 31 Navy ships. Numerous Navy planes and Marine helicopters were involved.

The participating Marines were from Hawaii, Okinawa and Camp Pendleton, California. In the operation, about 1,200 Marines were designated as enemy troops. The others rode landing craft and helicopters to establish beachheads and move inland against blank gunfire.

Five days after Randy's death, a CH53-D Sea Stallion helicopter crashed in the mountains of Mindoro Island, about 80 miles southwest of Manila. Thick jungle hampered rescue efforts with early totals being 18 dead, 7 missing and 14 being treated in hospitals.
Obituary
From the Tampa Bay Times on October 22, 1977:
He was born In Portsmouth, Ohio, had been a resident of Pinellas Park for 16 years coming from Portsmouth. He was a pilot with the US Navy, based in Manila, a 1969 graduate of Dixie Hollins High School, a 1973 graduate of US Naval Academy, Annapolis. He received legal training in Newport, R.I.; 2 years flight training in Meridian, Miss., had been overseas 1.5 years. He is survived by his wife Deborah and one daughter Carrie Ann, both of the Philippines; his parents, Mr. & Mrs. Lowell E. Rickey of Pinellas Park; maternal grandmother, Mrs. Nannie Lett of New Port Richey, Fla.; paternal grandmother, Mrs. Virginia Rickey of Portsmouth, Ohio; three brothers. Dean of Seminole, Fla., Gary of Spanaway, Wash, and Donnie of St. Petersburg, one sister, Mrs. Wilma Witkowski of Pinellas Park.
Class of 1973
Randy is one of 10 members of the Class of 1973 on Virtual Memorial Hall.
The "category" links below lead to lists of related Honorees; use them to explore further the service and sacrifice of alumni in Memorial Hall.