RICHARD D. HARTMAN, CDR, USN
From USNA Virtual Memorial Hall
Richard Hartman '57
Date of birth: March 1, 1935
Date of death: July 18, 1967
Age: 32
Lucky Bag
From the 1957 Lucky Bag:
Loss
From Arlington Cemetery:
On July 18, 1967, LCDR Richard D. Hartman's aircraft fell victim to anti-aircraft fire near Phu Ly in Nam Ha Province, North Vietnam. Hartman, from VA 164, ejected safely, but could not be rescued due to the hostile threat in the area. Others in the flight were in radio contact with him and resupplied him for about three days. He was on a karst hill in a difficult recovery area. Eventually the North Vietnamese moved in a lot of troops and AAA guns, making rescue almost impossible.

One of the rescue helicopters attempting to recover LCDR Hartman on the 19th was a Sikorsky SH3A helicopter flown by Navy LT Dennis W. Peterson. The crew onboard the aircraft included ENS Donald P. Frye and AX2 William B. Jackson and AX2 Donald P. McGrane. While attempting to rescue LCDR Hartman, this aircraft was hit by enemy fire and crashed killing all onboard. The remains of all but the pilot, Peterson, were returned by the Vietnamese on October 14, 1982. [Peterson was recovered in 2000; his remains were identified in 2012. Information from Chris Williamson, Defense POW/MIA Accounting Agency, on April 9, 2018.)]

The decision was made to leave Hartman before more men were killed trying to rescue him. It was not an easy decision, and one squadron mate said, "To this day, I can remember his voice pleading, 'Please don't leave me.' We had to, and it was a heartbreaker." Hartman was captured and news returned home that he was in a POW camp. However, he was not released in 1973. The Vietnamese finally returned his remains on March 5, 1974. Hartman had died in captivity from unknown causes.
Shipmate
From the September 1974 issue of Shipmate:
Cdr. Richard Danner Hartman, USN, was shot down on 18 July 1967 while on a combat mission over North Vietnam. He reportedly died in captivity on 22 July 1967. Funeral services were held at the Ft. Myer Chapel with interment in Arlington National Cemetery with full military honors.

At the time he was shot down, Cdr. Hartman was flying an A-4 Skyhawk aircraft of attack Squadron 164 operating from the aircraft carrier USS Oriskany.

Cdr. Hartman was born in Brunswick, N.J., and graduated from the Naval Academy in 1957. He was designated Naval Aviator in April 1959, and received a master's degree in aeronautical engineering from the Naval Postgraduate School, Monterey, Cal., in 1966. He served in Utility Squadron 10 at Guantanamo Bay, Cuba, and with Attack Squadron 86 at Oceana, Va.

He is survived by his mother, Mrs. Ann M. Hartman, 16 Eddinton Lane, Willingboro, NJ 08046; and a brother, Mr. Edward Hartman.
Obituary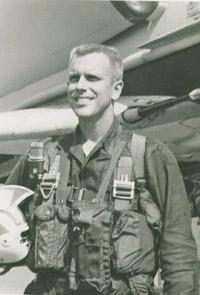 From Veteran Tributes:
Richard Hartman was born on May 1, 1935, in New Brunswick, New Jersey. He entered the U.S. Naval Academy in June 1953, and graduated with a commission as an Ensign on June 7, 1957. Hartman next completed flight training and was awarded his Naval Aviator Wings at NAS Pensacola, Florida, in May 1958. After additional training at NAS Kingsville, Texas, he was assigned to Attack Squadron FORTY THREE from October to December 1960, and then to Attack Squadron EIGHTY-SIX aboard USS Independence (CVA-62) from December 1960 to June 1963. LT Hartman then attended the U.S. Naval Postgraduate School in Monterey, California, from June 1963 to May 1966. During this time, he obtained his Masters Degree in Aeronautical Engineering. Hartman next joined the Replacement Air Group with Attack Squadron 125 at NAS Lemoore, California, where he went through A-4 Skyhawk training before being assigned to Attack Squadron 164 aboard USS Oriskany (CVA-34) in September 1966. He began flying combat missions in Southeast Asia in October 1966, and was forced to eject over North Vietnam and was taken as a Prisoner of War on July 18, 1967. His Communist captors reported that he died in captivity four days later, on July 22, 1967, and his remains were returned to the United States on March 6, 1974. CDR Richard Hartman is buried at Arlington National Cemetery.
Prisoner of War Medal
From Hall of Valor:
Commander Richard Danner Hartman (NSN: 0-613595), United States Navy, was held as a Prisoner of War in North Vietnam from July 19, 1967 until his death in captivity.

Action Date: July 19, 1967
Service: Navy
Rank: Commander
Division: Prisoner of War (North Vietnam)
Related Articles
Kurt Gareiss '57, William Weaver '57, and Wallace Mechling '57 were also members of 6th Company.
Class of 1957
Richard is one of 38 members of the Class of 1957 on Virtual Memorial Hall.