RICHARD F. ANDERSEN, JR., LT, USN
From USNA Virtual Memorial Hall
Richard Andersen, Jr. '02
Date of birth: April 28, 1980
Date of death: May 7, 2007
Age: 27
Lucky Bag
From the 2002 Lucky Bag:
Loss
From Travis Manion Foundation:
Lieutenant Richard F. Andersen, Jr. was one of five killed on May 7, 2007 when their SH-60F helicopter crashed in the Nevada desert during a training exercise. LT Andersen was a member of Helicopter Anti-Submarine Squadron 7, the 'Dusty Dogs,' based in Jacksonville, FL. The other four killed were CDR Michael D. Sheahan, SO1 William Weatherford, SO2 Jared Rosetto, and SO2 Andrew Bibbo.

LT Andersen, a 2002 Naval Academy graduate, was training in preparation to deploy to the Persian Gulf aboard the USS Harry S. Truman at the time of his death.
From The Progress-Index, May 9, 2007:
The SH-60F helicopter, flying out of Naval Air Station Fallon, went down late Monday about 10 miles west of Austin, base spokesman Zip Upham said.

"The helicopter was on a combat search and rescue exercise," Upham said. He said it struck a high-voltage transmission line, cutting the line…..The helicopter was assigned to Helicopter Antisubmarine Squadron Seven based in Jacksonville, Fla. The squadron is part of Carrier Air Wing Three, which deploys on the USS Harry S. Truman. The crew was on a month long training mission at Fallon that began April 30.

Upham said the crash occurred in an unpopulated area managed by the U.S. Bureau of Land Management. He described the area as "rugged terrain, very remote."
Obituary
From Holloman-Brown Funeral Home:
Lt. Richard Francis Andersen, Jr., USN, 27, of Virginia Beach, VA, passed away May 7, 2007 in Nevada.

Born in Honolulu, Hawaii, he was a helicopter pilot with the United States Navy for the last 5 years. He was a 1998 graduate of Princess Anne High School and a 2002 graduate of the U.S. Naval Academy. He attended the Little Creek Amphibious Base Chapel.

Richard is survived by his parents, CDR and Mrs. Richard F. Andersen, USN (Ret.) of Virginia Beach, VA; and his two sisters, Rachel Marie Andersen of Virginia Beach, VA and Elizabeth Ann Bohn and her husband Brian of Richmond, VA.
Richard is buried in Virginia; he also has a memory marker in the Naval Academy Cemetery and in Arlington National Cemetery.
Remembrances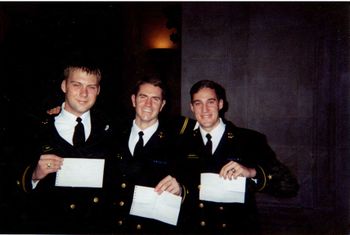 From the Naval Academy Alumni Association's "In Memoriam" page:
He was the best of the best. One young man in his squadron wrote to tell us that Richard was the man he wanted to be. Richard was a kind, humble, loving child who grew into a kind, humble loving man, and found joy in serving others. No clouds, no storm; only sunshine with him in our lives. Respect—true respect—is so hard to find ... those who knew him always felt was respect in the truest sense of the word. He was and always will be, a man to be emulated. He had a smile, a sense of humor and a strength that his father and I and his sisters will miss for the remainder of our lives. Carol Andersen, mother
From Michael Smith '02 in an email on May 27, 2017:
Richard was always quiet and thoughtful. He kept mostly to himself and always kept his nose clean. He was always quick to laugh at your jokes, but it was a quiet, almost snickering laugh that seemed to involve his shoulders heaving up and down a good deal. He enjoyed running – both for the exercise, but also I think for the time to be alone with his thoughts. He had a tall, somewhat lanky body to match his running habit. When he talked, it was in full sentences of clear, proper English. He was respectful of everyone he met and I honestly can't remember him saying a mean word about anyone.

During our Plebe year, Richard and I lived with Brock Mantz and Ben Partlow. Though he preferred to be called Richard, we all called him Dick. It was more out of laziness than any sort of disrespect and because he was such a nice guy, he never corrected us. Anyway, Ben, Brock, and I would frequently wrestle around in our room in the back shaft of 3-1. Since I'm the biggest of the group, I usually would try to throw my opponent in the shower – it rarely worked, but it seemed a good idea at the time. Richard usually just watched the antics and laughed about it. Anyway, one day, Richard must have been feeling his oats and somehow ended up wrestling with me. I started to move us towards the shower when, fast as lightening, Richard reversed on me and put me in a headlock while hanging off of my back. He and I didn't know it, but it was a sleeper hold and I went down like a sack of bricks, unconscious. As I lay on the floor, regaining my senses, I remember Brock shouting "Holy shit Dick – you killed him!". I knew that Brock was joking, but I'm not sure Dick was as certain. He was as apologetic as could be – I think the idea that he'd bested me so thoroughly horrified him. That was the end of wrestling.

The last time I saw Richard was after graduation. I had recently selected for jets and returned to Pensacola for ejection seat training and ran into him at base fast food joint. We talked about training – I was feeling pretty good having just selected jets – and I was surprised to find that he wasn't enjoying it. I don't think it was the learning how to fly part, but the actual act of piloting the aircraft. Neither he nor I had gone through IFS, so our first flights were in the T-34. I enjoyed it, he didn't. It has always stuck with me a little that his death was doing something he didn't even like. He struck me as a submariner, by personality, and I wish he'd done that because he'd likely still be with us.
Memorials
Richard is memorialized in the book In the Shadow of Greatness, a two-time Los Angeles Times Best Seller that was published in 2012.
Richard is one of 4 members of the Class of 2002 on Virtual Memorial Hall.
The "category" links below lead to lists of related Honorees; use them to explore further the service and sacrifice of the alumni in Memorial Hall.