RICHARD H. BRIGGS, CAPT, USMC
From USNA Virtual Memorial Hall
Lucky Bag
From the 1969 Lucky Bag:
RICHARD HENRY BRIGGS

Rick hails from the arid wasteland or plush tropical desert of Arizona, which ever you prefer. He either got his freckles and red hair from the hot dry weather at home or the sweet taste of College life he enjoyed at Arizona State before coming to Navy. The only man at the Academy to boast that his picture was put on a cover of TIME magazine for being a 'perpetual restrictee', he always had a way with women as those who are close to him well know. The haircut he'll never forget and his avid interest in the Marine Corps have earned him the nickname of Recon, while his subtle humor, crooked grin and outstanding potential as an officer are sure to be welcome.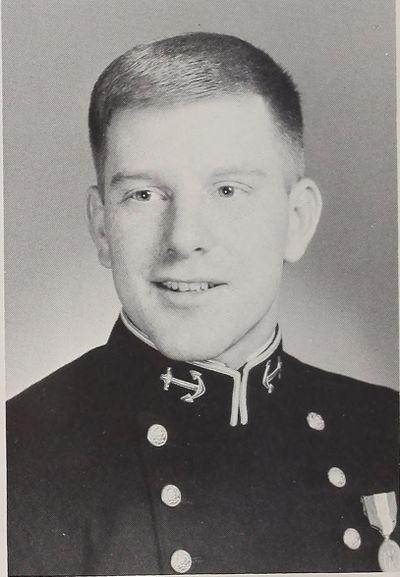 Loss
From The Los Angeles Times on December 17, 2002; the article is a compilation of deaths while flying in the AV-8 Harrier.
Died: June 5, 1974

Members of Congress and military brass were watching as Briggs, 28, brought his AV-8A in for a landing during a military exercise near Camp Lejeune, N.C.

His plane banked, rolled, then crashed. He didn't survive an ejection into a wooded area, said his widow, Marv Briggs. Investigators blamed pilot error and noted he was flying on five hours' sleep.

An experienced A-4 Skyhawk pilot, he had just 44 hours of flight time in the Harrier. His logbook showed he flew 6.2 hours in the month before his death and 10.2 hours the month before that, his widow said. His wing commander used the incident to write that Harrier pilots needed to fly 17 to 20 hours a month to stay proficient.

Marv Briggs remembered him as a "warm, funny and kind man." A U.S. Naval Academy graduate, he flew in the first Harrier squadron trained in this country. "He was very excited about the possibilities of that plane," she said. "It was a whole new part of aviation."