RICHARD L. HELM, LCDR, USN
From USNA Virtual Memorial Hall
Lucky Bag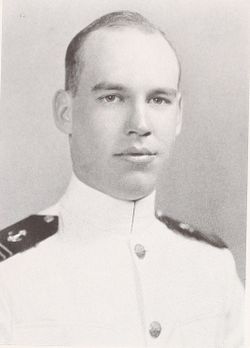 From the 1939 Lucky Bag:
RICHARD L. HELM

HARRISBURG, PENNSYLVANIA

Blatz, Dick

"Rally round," and Blatz is on the spot. From the capital city of Pennsylvania, our whirl-wind of speech. Tutored in the political atmosphere of Harrisburg, he has become the Naval Academy's most consistent "bull sessionist"—and occasionally he passes out some good dope. His undaunting courage and will to win against surmounting odds have successfully carried him through his one major tussle with the Steam Department. Though one of the finer Spanish athletes of the Class of '39, he does find some time to devote to athletics. Blatz does not consistently drag, yet no hop would be complete without his beaming face. There never was a more congenial roommate, and we know he will be a success in whatever field of endeavor he chooses.

Manager Football 4, 3; Battalion Track; Reception Committee; 1 Stripe.
Loss
Richard was lost when USS Pickerel (SS 177) was sunk by Japanese vessels north of Honshū on April 3, 1943.
His parents were listed as next of kin. He has a memory marker in Pennsylvania.
Silver Star
From Hall of Valor:
The President of the United States of America takes pride in presenting the Silver Star (Posthumously) to Lieutenant Richard Lintner Helm (NSN: 0-82729), United States Navy, for conspicuous gallantry and intrepidity in action in the performance of his duties in the U.S.S. PICKEREL (SS-177), during the first five War Patrols of that Submarine in enemy waters from 8 December 1941 to 26 August 1942. As Assistant Torpedo Data Computer Operator, his keen understanding of fire control equipment and proficiency in operating the Torpedo Data Computer were of invaluable assistance to his Commanding Officer in conducting successful attacks which resulted in the sinking of two enemy freighters, totaling 10,000 tons. His coolness and devotion to duty contributed directly to the success of his vessel in evading enemy countermeasures. His conduct throughout was an inspiration to the officers and men in his ship and were in keeping with the highest traditions of the United States Naval Service.

General Orders: Commander in Chief Pacific: Serial 03958 (May 12, 1945)
Action Date: December 8, 1941 - August 26, 1942
Service: Navy
Rank: Lieutenant
Company: Assistant Torpedo Data Computer Operator
Division: U.S.S. Pickerel (SS-177)
Memorial Hall Error
His memorial marker and a listing of losses in that Pacific theater in Honolulu both list him as a LCDR. Believe his was likely a posthumous promotion.