RICHARD L. LAWS, LT, USN
From USNA Virtual Memorial Hall
Richard Laws '62
Date of birth: March 25, 1940
Date of death: April 3, 1966
Age: 26
Lucky Bag
From the 1962 Lucky Bag: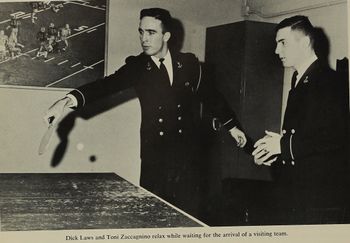 Obituary
From Find A Grave:
Lt Richard Lee Laws, Naval Aviator - Richard Lee Laws (1940-1966) grew up traveling over 1000 miles between Texas where and California, where his father, a skilled carpenter, was able to get work. He, his brother and mother picked crops such as cotton, vegetables and fruit in the scorching Texas sun to earn money for the family. It took fifteen years, but his family eventually built a brick house in Sacramento, California.

He was the first in his extended family to graduate from high school, and always dreamed that he would fly airplanes. This was his passion. The freedom of a plane in the sky offered escape from the rigors of his earthborn life. He was very good at mathematics and science, and won a place at the United States Naval Academy, where he was graduated in the top 10% of his college class. Education was his ticket to a dream, and he became a naval aviator. As a decorated Navy Lieutenant, he was shot down over North Vietnam flying his F-8 from the aircraft carrier Hancock on April 3, 1966, over Xuan Du village in Thanh Hoi province. It was his third flak suppression mission on that day.

Dick, as he as called, loved horses and cars, and could fix any broken engine. He was a gentle man, slow to anger, and quick to smile. He was deeply committed to his small children Richard and Cheryl, and to his wife, parents and brother. He always studied hard, and believed strongly that education and personal commitment were key to opening the door to opportunity. He would be proud that his legacy offers that prospect to others.

The Richard Laws Xuan Du Scholarship is funded by his family to honor his memory; by his colleagues who remember him with great affection and respect, and by other Americans who did not know him, but join with us to foster a deepening friendship between our two countries.
Return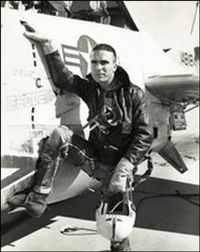 From The Sacramento Bee on February 4, 2013, by Bill Lindelof:
There was little doubt that West Sacramento's Richard L. Laws died April 3, 1966, when the naval fighter pilot's aircraft was hit by enemy fire and crashed in North Vietnam.

"After making a strafing run on the target, Lt. Laws radioed that his aircraft had been hit," reads a military report on his death. "Twenty seconds later, his flight lead observed Laws' aircraft impact a hillside and explode."

The report goes on to state that a parachute was observed but it was not used. No further radio contact was received from the 26-year-old Laws after impact.

A memorial service a few days after the crash was held at Miramar Naval Air Station Chapel near San Diego.

After the war ended, on three separate occasions, different joint teams of Vietnamese and Americans visited the crash site, gathering remains.

However, nothing was to come of those remains recovery missions until the science of DNA typing had advanced to the point that a match was made with a relative of Laws.

"It looks like DNA technology was not quite where it could identify the remains that were recovered until 2011," said Air Force Maj. Carie Parker, a public affairs officer with the Defense Prisoner of War-Missing Personnel Office.

With Laws officially coming off the books as missing in action, the family of the late naval officer will gather on May 10 in Annapolis, Md., at the Naval Academy in the chapel, where a funeral for the pilot will be held 47 years after his death.

His widow, Karen Laws Engelke, who once made a pilgrimage to her first husband's crash site, last week recalled his death and spoke about the importance of the upcoming services.

She described him as a serious man with a dry sense of humor. Thin, athletic and bright, he ran cross country in high school.

He always wanted to fly and could fix any car. Laws graduated high in his academy class.

When he died, Laws was on his second tour of duty, his unit named Attack Squadron 24 on board the USS Hancock. Engelke remembered her husband had grown weary of war.

"Dick was a very tired young man," she said. "He had to buck up every single day to get into that plane to take off."

He wanted to be home, she said. His plane had never been hit before the fatal event, but several in his squadron had sustained damage.

"I was worried every day," she said. "After he came back from the first tour, he had nightmares about being captured."

She remarried in 1971; her second husband, Edwin Engelke, died of cancer.

Engelke said that in 2006, she and her daughter and a grandson went to Vietnam to the crash site. The pilgrimage brought them to a rural village called Xuan Du, about 45 minutes by car from the end of the paved road.

"It was extraordinary," said Engelke. "We were met in a village council chambers and then we hiked up this pretty steep hill."

She brought with her 357 memorial ribbons attached to a pole from all kinds of people, including Laws' classmates and friends. All the ribbons had messages, some in Vietnamese.

She tied it to a tree at the crash site and a few words were said.

Engelke is glad that the remains were recovered to honor her late husband. Her children, who were very young when their father was killed, turned out to "be pretty cool people," she said.

Their son, Richard, an Army veteran, is a physician. Their daughter, Cheryl, once a Naval aviator, is employed in the nuclear shipping industry.

"Dick had a great smile, which his son has now," she said.
Class of 1962
Richard is one of 30 members of the Class of 1962 on Virtual Memorial Hall.
The "category" links below lead to lists of related Honorees; use them to explore further the service and sacrifice of the alumni in Memorial Hall.