ROBERT D. BIEDERMAN, LT, USN
From USNA Virtual Memorial Hall
Lucky Bag
From the 1954 Lucky Bag:
Loss
Robert was lost when USS Thresher (SSN 593) sank with all hands on April 10, 1963.
Obituary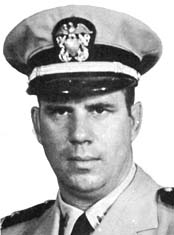 Robert Donald Biederman was born on August 27, 1930, in Hartford, Connecticut. While attending Weaver High School in Hartford, he was active in sports, including track, cross country, and basketball. After being graduated from high school in 1948, he entered the University of Connecticut, and in June 1950, he was accepted as a midshipman at the U.S. Naval Academy at Annapolis. He was graduated from the Academy with the class of June 1954, and commissioned as an ensign.

His first assignment as a naval officer was aboard the Newport-based destroyer U.S.S. Hyman (DD 732). After 3 years of sea duty, Robert was selected for postgraduate study at Webb Institute of Naval Architecture, Glen Cove, Long Island, N.Y. He successfully completed the course of study and was graduated with a master of science degree in naval architecture.

Robert volunteered for submarine duty and entered the Submarine School at the U.S. Naval Submarine Bass, New London, Connecticut. His first assignment in submarines, after completing the course of instruction, was in the U.S.S. Cavalla (SS 244). It was while serving in that command that Robert qualified as a submariner and was awarded his gold dolphins; insignia of the submariner.

He reported to the Portsmouth Naval Shipyard in June 1962, where he studied in the Nuclear Power Submarine Familiarization Training Unit until December. In January 1963, Robert was assigned to the U.S.S. Thresher (SSN 593), in his capacity as senior ships superintendent for non-nuclear work for the Portsmouth Naval Shipyard.

During his naval career, Robert had been awarded the Navy Occupation Service Medal with European Clasp and the National Defense Service Medal.

He is survived by his widow, the former Bettie Boehringer of Meriden, Connecticut; sons, Gregory, Bruce and Eric; and a daughter, Deborah. He also leaves his mother, Mrs. Dorothy S. Biederman; four brothers, and three sisters, all of Hartford, Connecticut.
Related Articles
Robert Wilson '54 and Louis Niederlander, Jr. '54 were also members of 19th Company.
Philip Allen '45, John Billings '50, John Harvey '50, Robert Krag '50, Michael DiNola '53, Merrill Collier '56, John Wiley '61, Guy Parsons, Jr. '59, James Henry, Jr. '60, Ronald Babcock '60, and John Grafton '61 were also lost when USS Thresher (SSN 593) sank with all hands on April 10, 1963.
Robert is one of 37 members of the Class of 1954 on Virtual Memorial Hall.
The "category" links below lead to lists of related Honorees; use them to explore further the service and sacrifice of the alumni in Memorial Hall.