ROBERT R. KORNEGAY, LCDR, USN
From USNA Virtual Memorial Hall
Date of birth: November 29, 1934
Date of death: March 15, 1967
Age: 32
Lucky Bag
From the 1958 Lucky Bag:
Loss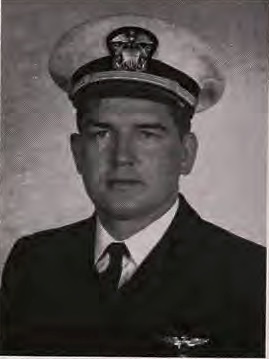 From China Lake Alumni:
U.S. Navy Commander William L. "Mike" Reardon, U.S. Navy Lieutenant Commander Robert R. Kornegay and USN Aviation Machinist Mate 1st Class (ADJ-1) Vernon K. Whipkey lost their lives when their A-3B Skywarrior (BuNo 138952) came to earth eight miles short of the runway during a GCA approach to Lockbourne AFB, Columbus, OH. They were on their way to Quonset Point, RI to pick up a weapon that had been brought there a month earlier.
From the May 1967 issue of Shipmate:
LCdr. Robert R. Kornegay, USN, who was serving with the Naval Air Facility at China Lake, Calif., died in a military plane accident near Lockbourne Air Force Base, Columbus, Ohio, on 15 March. The plane was on an operational flight at the time of the accident. A memorial service was held at the Protestant Chapel at China Lake, with military services and interment held at Centreville, Ala., on the 20th.

LCdr. Kornegay, who was born in Alabama, attended the University of Alabama before entering the Naval Academy. He was graduated with the class of 1958, and was designated a naval aviator at Pensacola. He was assigned to China Lake in June 1966 and held the positions of Pilot Indoctrination and Air Navigation Officer at the Naval Ordnance Test Station.

Survivors include his widow, the former Diane Jamieson of Vancouver, Canada, who is living at 54-B Ringgold St., China Lake, Ca. 03555; his parents, Mr. and Mrs. Howard Kornegay of 136 Cooper St., Centreville, Ala. 35042; three brothers, George Kornegay of Montevallo, Ala., Stanley Roy Kornegay of Atlanta, Ga., and James Kornegay of Centreville, and a sister, Mrs. Cora Mae Flam of Oak Ridge, Tenn.
He is buried in Alabama.
Robert is one of 28 members of the Class of 1958 on Virtual Memorial Hall.
The "category" links below lead to lists of related Honorees; use them to explore further the service and sacrifice of the alumni in Memorial Hall.