RONALD W. MEYER, 2LT, USMC
From USNA Virtual Memorial Hall
Date of birth: November 8, 1942
Date of death: June 16, 1966
Age: 23
Lucky Bag
From the 1965 Lucky Bag:
Obituary
From the August-September 1966 issue of Shipmate:
2nd Lt. Ronald W. Meyer, USMC, died on 16 June while engaged in hostile action in the vicinity of Nui Vu Quant Tin Province, Vietnam. He was shot in the back when his platoon was sent in to rescue Marines trapped by the Viet Long. Services with military honors were held in Dubuque, Iowa, on 25 June, with interment in Dubuque Memorial Gardens.

… He completed basic training at the Marine Corps Schools, Quantico, in December, and had duty in Hawaii until his assignment in Vietnam in March. He was serving with Company C, 1st Battalion, Fifth Marines, First Marine Division.

Surviving are his widow, the former Mary K. Cooper… his parents… two brothers, James B. Meyer … and Cletus D. Meyer… and his paternal grandmother, Mrs. Marie Meyer.
He is buried in Iowa.
Loss
From Virtual Wall:
The battle on 16 June 1966 on Hill 488 (Nui Vu) involved a full battalion of North Vietnamese Army regulars assaulting 18 men of the 1st Platoon, C Company, 1st Recon Battalion, led by Staff Sergeant Jimmie Earl Howard. The Recon Marines had established an observation post atop Nui Vu in order to identify and prosecute by remote fire VC/NVA forces operating in the mountains west of Chu Lai. The operation was sufficiently effective to get the NVA commander's attention and sufficiently dangerous for him to commit a fresh battalion to eradicate the Marines. He failed.

The NVA assault on Hill 488 began in late afternoon and continued through the night. The beleaguered Marines were assisted by Marine and Air Force helicopter and fixed wing air support, but it was sheer courage and determination that permitted the Marines to hold until morning. Charlie 1/5 Marines were airlifted onto the reverse slope of Hill 488 and relieved the Recon Marines. Of the 18 men in the Recon Platoon, 6 died and 12 were wounded. Two men of Charlie 1/5 Marines and one each from VMO-2 and VMO-6 (Marine UH-1 squadrons) died. One Medal of Honor (Staff Sergeant Howard), 4 Navy Crosses, and 13 Silver Stars were awarded.

Immediately after the battle, Captain F. J. West, USMCR, interviewed men from Howard's platoon, Charlie 1/5, airmen from the squadrons which supported Howard, and others. In 1967 the History and Museums Division, Headquarters, U. S. Marine Corps, published his account of the fight on Hill 488. Captain West's account is available on The Virtual Wall at HILL 488.
Remembrances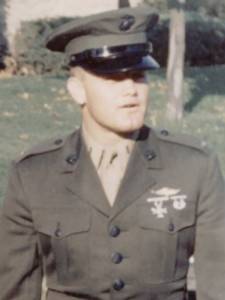 You were a good and decent man, looked up to by many young Boy Scouts. They took you away on my birthday...... I will never forget you. It was a sad honor to sketch out your name on the wall. TOM NELSON, 6/17/14
From Dubuque Telegraph Herald on May 27, 2002, by Craig Reber:
Rafoth sees Marines come to man's home to notify his parents of death

Veteran recalls his fallen friend

Among the names carved in the Vietnam Veterans Memorial at Dubuque's Miller Riverview Park is Ronald W. Meyer.

Ron Meyer, as well as thousands of other fallen Americans, is remembered today. Dave Rafoth will never forget his friend, whom he grew up with, hung out with, played army with.

"He was a hell of an athlete," Rafoth said, recalling Meyer's wrestling prowess at Dubuque Senior High School. "He was a real smart guy, too.

"My very first official date with a girl, I doubled with him."

Meyer excelled in the classroom as well. He won an appointment to the U.S. Naval Academy in Annapolis, Md., and graduated in 1965. He accepted a commission as a second lieutenant in the U.S. Marine Corps.

"He looked like a million bucks," Rafoth said, recalling seeing his friend clad in his blue Marine Corps dress uniform.

Like many young men coming of age in the early 1960s while the conflict grew in far-off southeast Asia, military service was a very real possibility. Meyer advised his friend not to go in the Army, "'Go in the Marine Corps. With your education, you'll get a nice cushy job.'"

Rafoth listened.

"I did, but I didn't tell my folks," Rafoth said.

Vietnam was a war that was graphically brought home to the American public via network television. Rafoth recalled seeing a news report by Dan Rather on a firefight near Danang. A soldier was shot, but not killed.

"This is real, not Hollywood," Rafoth remembered thinking.

Vietnam's reality would strike home even harder. Rafoth was busy in the summer of 1966. In October, he would begin his training with the Marine Corps.

Rafoth was working on a house next to where the Meyer family lived. He remembers the day a Marine Corps staff car pulled up to the house and out stepped a Marine major.

"I knew exactly what it was," he said.

Nobody was home. They were looking for the Meyers.

"I told him where Mr. Meyer worked," Rafoth said. "They must have made a phone call. Mr. Meyer was there in five minutes."

The Marine major returned as well. What happened next, Rafoth will never forget.

"I was outside the house," he said. "I heard a scream. (It was Meyer's mother, Jeanette). I can still hear it. It gave me the willies. It still does. I said I had to go home. I left work and went home and stayed for the next day or two."

Rafoth found out later Ronald W. Meyer was killed in action in Vietnam on the same day Rafoth was sworn into the Marine Corps, on June 16, 1966. Meyer was posthumously awarded the Silver Star - for gallantry in action.

"I'm going in the Marine Corps, my best buddy is dead," Rafoth said. "I had a lot of reservations. Ron Meyer, second lieutenant, leading a platoon, shot in the back. That was a real eye opener. There was no turning back."

Ronald Meyer's parents gave Rafoth Ron's eagle, globe and anchor insignia from his dress uniform. He still has it.

Rafoth recalled his pride when he graduated from Marine Corps' recruit training.

"If my buddy could see me, he would be pretty proud," Rafoth said, remembering the day.
Silver Star
From Hall of Valor:
The President of the United States of America takes pride in presenting the Silver Star (Posthumously) to Second Lieutenant Ronald William Meyer (MCSN: 0-91945), United States Marine Corps, for conspicuous gallantry and intrepidity in action while serving with Company C, First Battalion, Fifth Marines, FIRST Marine Division, in the Republic of Vietnam on 16 June 1966. When his platoon was pinned down during a reserve operation in the vicinity of Tam Ky, Second Lieutenant Meyer single-handedly and without regard for his own safety attacked a series of enemy automatic weapon positions with hand grenades. Though continuously exposed to intense and accurate enemy fire, he successfully destroyed one of the enemy positions. Again exposing himself to the enemy, he attempted to maneuver to a location from which to direct supporting arms fire on the other enemy positions. While attempting to direct fire on a fleeing enemy, he exposed himself to an enemy sniper and was mortally wounded. Second Lieutenant Meyer's supreme sacrifice so inspired the rest of his men that they regained the momentum of the attack, successfully eliminated the enemy resistance, and accomplished the rescue mission saving the lives of thirteen other Marines. By his bold and courageous actions he upheld the highest traditions of the Marine Corps and the United States Naval Service. He gallantly gave his life in the cause of freedom.

Action Date: 16-Jun-66
Service: Marine Corps
Rank: Second Lieutenant
Company: Company C
Battalion: 1st Battalion
Regiment: 5th Marines
Division: 1st Marine Division (Rein.), FMF
Ronald is one of 23 members of the Class of 1965 on Virtual Memorial Hall.
The "category" links below lead to lists of related Honorees; use them to explore further the service and sacrifice of the alumni in Memorial Hall.