THOMAS A. BANTA, LT, USN
From USNA Virtual Memorial Hall
Lucky Bag
From the 1954 Lucky Bag:
Loss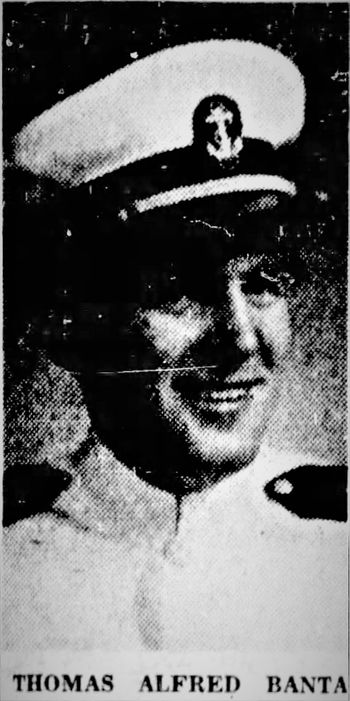 Tom was lost when a USS Randolph (CVA 15) catapult "bridle detached from one hook and dragged A4D-2 BuNo 142702 sideways down track and upside down into sea" on September 25, 1958.
Other Information
From researcher Kathy Franz:
Thomas graduated from Towson High School in Maryland and the Naval Academy Preparatory School at Newport, Rhode Island.

In June 1958, he ushered at the wedding of Lt. Peter Nelson Randrup ('56) at West Hartford, Connecticut. Best man was Lt. John H. Slough ('56,) and other ushers were Lts. William Elias ('55,) Robert Hinton ('55,) Frank L. Ingram ('56,) Charles Rourke ('54), and John Wild ('55.)

He left the U.S. on September 1, 1958, and was stationed aboard the aircraft carrier Randolph in the Mediterranean Sea.

Survived by his wife, the former Constance Louise Nine, whom he married on graduation day June 4, 1954; his father T. G. Harrison; his mother and foster father Mr. and Mrs. William J. Banta; and three brothers, William now in his first year at Annapolis ('61,) Charles and Frank.
He has a memory marker in Arlington National Cemetery.
Tom's wife remarried. His sword was, as of December 2009, going to be given to a Virginia Tech NROTC midshipman.
Related Articles
George Gardner, Jr. '46 was also a member of Attack Squadron (VA) 72 and also lost during USS Randolph's 1959 Mediterranean Sea deployment.
Thomas is one of 37 members of the Class of 1954 on Virtual Memorial Hall.
The "category" links below lead to lists of related Honorees; use them to explore further the service and sacrifice of the alumni in Memorial Hall.