Difference between revisions of "THOMAS A. EADES, LCDR, USN"
From USNA Virtual Memorial Hall
 

m (1 revision imported: picture sizes)

 

(27 intermediate revisions by 3 users not shown)
Line 1:
Line 1:
−

From the [https://archive.org/details/luckybag1957unse 1957 Lucky Bag]:

+
−

<blockquote>

 
−

THOMAS ALLEN EADES

 
 
 
−

Dallas, Texas  

+
 
+
 
+
 
+

Dallas, Texas

 
+
 
 
−

Allen came to ns after two years of the gay happy life at the University of Texas. Forced to leave the cars, wine, women, and other advantages of fraternity life hchind, he did bring his megaphone, and spent the next four years leading cheers for the "Blue and Gold." Al's presence in his room was always assured when the sound of "Rhythm and Blues" records spilled out into the passageway. His love of the traditional Mid's castle, his rack, was disturbed by a small problem with academics, finally overcome by determined studying. This Texan's wit and easy manner have helped to make our four years pleasant ones.  

+

.

 
 
−

</blockquote>

+
 
+
 
+

/

 
+

 

 
+
 
+

 

 
+
 
+

 

 
+
 
+
 
+

 

 
+
 
+

 

 
+
 
+
 
+
 
+
---
Latest revision as of 12:26, 20 December 2019
Lucky Bag
From the 1957 Lucky Bag: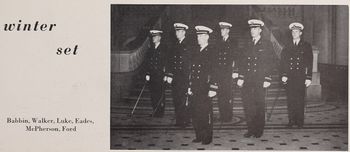 Loss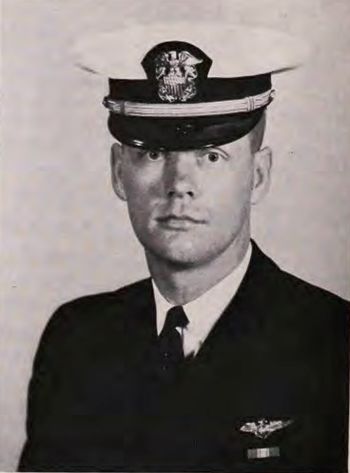 Tom was lost on April 29, 1965 when the YC-2A Greyhound he was testing crashed in the Atlantic Ocean. He was assigned to Naval Air Station Patuxent River.
He was survived by his parents. (Information from June-July 1965 issue of Shipmate.)
Though he body was recovered on May 1st, unable to find a burial location.
Related Articles
Murdoch McLeod '47 was the other pilot aboard and was also lost.
Class of 1957
Thomas is one of 38 members of the Class of 1957 on Virtual Memorial Hall.
The "category" links below lead to lists of related Honorees; use them to explore further the service and sacrifice of the alumni in Memorial Hall.