THOMAS H. O'BRIEN, CAPT, USAF
From USNA Virtual Memorial Hall
Thomas Hall O'Brien was admitted to the Naval Academy with an At Large appointment on July 23, 1951 at age 19 years 7 months.
He voluntarily resigned from the Naval Academy on August 20, 1952.
Loss
Thomas was killed in a crash of his T-28 in Florida with the 6th Fighter Squadron on December 20, 1963. He is buried in Ft. Rosecrans National Cemetery.
His loss was noted in the March 1964 Shipmate, incorrectly, as occurring in Korea.
Biography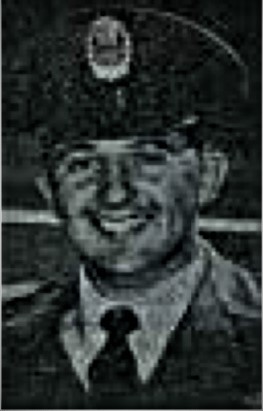 From San Diego State University Alumni:
Thomas H. O'Brien was on the freshman 1950 basketball team, a member of the Tizoc Club (wrestling), president of Kappa Alpha fraternity and was one of the most distinguished cadets in the Air Force ROTC, having won the Air Force Association Award in 1953.

Thomas died on December 20, 1963 when his T-28 jet trainer crashed near DeFuniak Springs, Florida. Born in West Point, New York and a graduate of Hoover High School, in addition to his math degree from San Diego State he earned a degree in engineering at the Air Force Institute of Technology in Ohio. He served two tours of duty in South Vietnam in the early 1960s before the United States began sending combat units. Thomas was the father of a son and daughter.
Distinguished Flying Cross
Unable to find the citation for the Distinguished Flying Cross cited on his headstone.
Class of 1955
Thomas is one of 34 members of the Class of 1955 on Virtual Memorial Hall.
The "category" links below lead to lists of related Honorees; use them to explore further the service and sacrifice of alumni in Memorial Hall.