THOMAS P. MCGRATH, LCDR, USN
From USNA Virtual Memorial Hall
Lucky Bag
From the 1940 Lucky Bag:
THOMAS PATRICK MCGRATH

Tucson, Arizona

From the sands of Arizona "Tiny" came to the Navy ready for a scrap. Generally as gentle as a St. Bernard, nothing suits him better on the gridiron than a fight. Tom is ambitious in both athletics and academics. Plebe year it was shadow boxing his roommate, the "Shadow;" second class year, playing with a sixteen pound ball. Tiny is kind-hearted, generous, and always ready to render aid to his classmates. Claiming he is always losing weight, he diets on four desserts. A regulation fellow, well-liked, and respected by all, the Navy has in him no better material for a leader, an officer, and a gentleman.
Loss
Thomas was lost when USS Pompano (SS 181) was sunk, likely on September 17, 1944. He was the boat's executive officer.
His parents were listed as next of kin.
Silver Star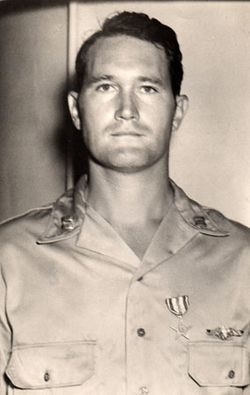 From Hall of Valor:
The President of the United States of America takes pride in presenting the Silver Star (Posthumously) to Lieutenant Thomas Patrick McGrath (NSN: 0-85072), United States Navy, for conspicuous gallantry and intrepidity in action as First Lieutenant and Damage Control Officer of the U.S.S. POMPANO (SS-181) during three successive and aggressive War Patrols of that Submarine during World War II, which resulted in the sinking of an important amount of enemy shipping. On the occasion of a surface engagement with a 900-ton armed enemy patrol vessel he manned a machine gun in an exposed station and in the face of heavy enemy machine gun fire maintained an accurate and effective fire from the gun which directly contributed to the total destruction and sinking of that enemy ship. His conduct throughout these three patrols was in keeping with the highest traditions of the United States Naval Service.

General Orders: Commander in Chief Pacific: Serial 01623 (July 11, 1943)
Action Date: World War II
Rank: Lieutenant
Company: First Lieutenant
Division: U.S.S. Pompano (SS-181)
Bronze Star
He was also awarded the Bronze Star, but unable to find the citation.
Memorial Hall Error
Thomas is listed as a LCDR in a majority of references. Memorial Hall lists him as a LT.