THOMAS W. TYLER, MAJ, USMC
From USNA Virtual Memorial Hall
Lucky Bag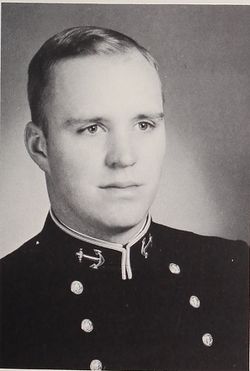 From the 1969 Lucky Bag:
THOMAS WELCH TYLER

Tom Tyler came to the Naval Academy from Sparta, New Jersey via Admiral Farragut Academy. With such a background, the life of a midshipman was old hat to Tom and he always found a way to sidestep the system. As a talented athlete, he was a welcome addition to the batt boxing and company football teams. Academics never held much excitement for Tom and he was always looking for other outlets. A good man at a party, he managed to retain a fine selection of the fair sex for such occasions, and as one of the eighth company "Road Maggots," Tom has emphasized that the quiet conservative life is not for him. Tom's plans for his life in the Naval Service are somewhat hazy, but what ever he chooses he will be an asset to that field and a credit to his class.
Loss
From The Los Angeles Times on December 17, 2002; the article is a compilation of deaths while flying in the AV-8 Harrier.
Died: June 26, 1981

Family members had been invited on board the amphibious assault ship Tarawa for a cruise, and Tyler's fiancee was watching as he did a demonstration flyby in his AV-8A. He was supposed to make several passes by the ship from stern to bow. But after the first pass, he changed direction, heading bow to stern. After narrowly missing the ship, the plane hit the water.

Investigators concluded the "primary cause of the accident was pilot error," noting that the presence of his fiancee "may have altered Maj. Tyler's previous conscientious flying attitude." Their report also faulted shipboard personnel for not warning Tyler sooner that he had strayed from his flight plan.

Tyler graduated from the U.S. Naval Academy and flew helicopters in Vietnam. But his real love was the Harrier. "He just loved to fly that plane," said John L. Tyler, his father.

Thomas Tyler, 33, was divorced and had a daughter, who was 7 at the time he was killed.