VICTOR P. BUCKLEY, LT, USN
From USNA Virtual Memorial Hall
Lucky Bag
From the 1966 Lucky Bag:
Loss
From POW Network:
Lt. Victor P. Buckley was the pilot of an RF8A on a combat mission in North Vietnam on December 16, 1969. His aircraft was hit by enemy fire, and he evidently headed out to sea for easier rescue, as the site where his aircraft is recorded to have crashed is about 75 miles offshore east of the city of Quang Khe in the Gulf of Tonkin. It was felt that there was little or no hope that he survived, and Buckley was declared Killed/Body Not Recovered.
The destroyer USS Dennis J. Buckley (DD 808) — no apparent relation to the namesake — searched for him for three days
He has a memory marker in Arlington National Cemetery.
Remembrances
From Wall of Faces:
My fiancé Lt. V. Patrick Buckley, disappeared returning to the USS Hancock, in the Gulf of Tonkin, on Dec. 16, 1969. His remains have never been recovered. I remember that day like it was yesterday. The sadness just never leaves you. I held on to the hope for years that his plane somehow made it to land and he was captured. I hoped and prayed that he would be returned to us. But the POW's eventually came home and he wasn't among them. I wish that I had the words to describe to you what a handsome, bright, dynamic individual he was. He just loved life and had so much to offer. I tried without success to find out what happened to him. I know that if the situation was reversed he would never have stopped looking for me. I hope that he knows that with the little resources that I had at my disposal I did try my best and I continue to try. I hope that whatever happened to him was quick and that he did not suffer. It is said that pain eases with time, but I still feel his loss so acutely to this day. I hope that he is somewhere where there is no pain and suffering and if I pray really hard I will some day see him again. DARLENE MCPHEE SIMEONE, 12/15/16
On December 16, 1970, my ship the USS DENNIS J BUCKLEY was sent to search for a pilot that had went down in the Tonkin Gulf while coming back from a mission over Vietnam. We broke off from the aircraft carrier we were working with and proceded to the site where the plane went down. Capt Luskin announced the pilot's name was Victor Buckley. We spent three days looking for him, but to no avail. We did find a nose wheel off of a plane, but had no idea whether it came off of Lt Buckley's plane. It was a tremendous let down to the crew when we were ordered to return to the carrier. HAROLD FERGUSON, HAROLD.FERGUSON@SBCGLOBAL.NET, 1/15/07
A lifetime ago, when Pat was an Ensign in flight training at Meridian, MS, we were friends. Actually, we dated for a while. How he loved life, laughter, his TR3, his motorcycle, and flying jets! Time spent with Pat was time spent having fun.

I first learned that Pat had been killed in Vietnam when I came across his name on the memorial at Punchbowl in Hawaii. I'm pleased to find this online memorial to him, to learn more about what happened, and to be able to add my 'farewell'. I'll think of him fondly when I look out at the stars. JANICE (BAKER) BLASE, JANBLASE@COMCAST.NET, 7/7/05
Victor (Pat) was a true friend, we shared many classes at the Naval Academy. It's so sad he left us so early. May God continue to bless his soul. TOM PORTER, 11/13/04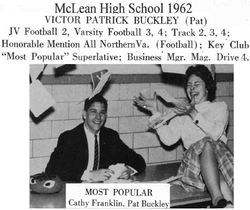 Friend, roommate, classmate

Although he was tragically lost in Viet Nam, I'm not able to think about Bucs without instantly remembering his ever-present smile. He was a friend to all who knew him, a confidant to those who needed help or advice, and a professional when it came to doing his work. These days Bucs surely sits somewhere close to God so that he can be called on to cheer things up when even God is dismayed about happenings here on earth. A wonderful person, part of the tragedy of his loss is that others never had the chance to meet him. BILL COWAN, USMC (RET), WVC3@EARTHLINK.NET, 7/19/04
From Daily Breeze on May 23, 2015. Quote from Steve Wilson:
"A couple of these guys never came back. I worked on the flight deck of an aircraft carrier and would just watch them leave and never come back," the Torrance resident said, walking to another section and landing his finger beneath the name Victor P. Buckley. "We searched three days for him and never found him."
Related Articles
Richard Williams '66 and Michael Wunsch '66 were also in 11th Company.
Class of 1966
Victor is one of 36 members of the Class of 1966 on Virtual Memorial Hall.
The "category" links below lead to lists of related Honorees; use them to explore further the service and sacrifice of the alumni in Memorial Hall.