WILLIAM C. HUTTER, MIDN, CSN
From USNA Virtual Memorial Hall
William Hutter '63
Date of birth: March 21, 1843
Date of death: March 8, 1862
Age: 18
Lucky Bag
The Lucky Bag was first published in 1894.
William C. Hutter was admitted to the Naval Academy from Virginia on October 25, 1859 at age 16 years 7 months.
Loss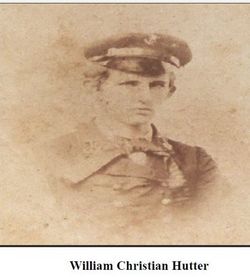 William was killed on March 8, 1862 while aboard CSS Beaufort in the Battle of Hampton Roads. William was stationed on CSS Raleigh (1861), but was aboard CSS Beaufort when he was killed.
He resigned from the Naval Academy on April 20, 1861 and was appointed an acting midshipman in the Confederate States Navy on June 21.
He is listed on the killed in action panel in the front of Memorial Hall.
He is buried in Virginia.
Related Articles
James Taylor '60 was also killed in this engagement.
Confederates in Memorial Hall
This alumni is included on this site because he is listed in Memorial Hall. However, pursuant to Section 377 of the National Defense Authorization Act for Fiscal Year 2021, the Secretary of Defense shall "remove all names, symbols, displays, monuments, and paraphernalia that honor or commemorate the Confederate States of America (commonly referred to as the "Confederacy") or any person who served voluntarily with the Confederate States of America from all assets of the Department of Defense."
Class of 1863
William is one of 14 members of the Class of 1863 on Virtual Memorial Hall.
The "category" links below lead to lists of related Honorees; use them to explore further the service and sacrifice of alumni in Memorial Hall.