ALAN A. PATTERSON, LCDR, USN
From USNA Virtual Memorial Hall
Date of birth: September 25, 1978
Date of death: March 11, 2013
Age: 34
Lucky Bag
From the 2000 Lucky Bag:
Obituary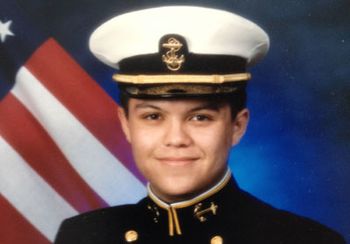 From Whidbey News-Times, March 19, 2013:
Lt. Cmdr. Alan A. Patterson is survived by his wife, the former Denise Schabener of Warminster, Pa. and his two children.

Patterson graduated from the U.S. Naval Academy in Annapolis, Md., in May 2000 with a bachelor's degree in history and a minor in French.

Following commissioning, Patterson reported to Pensacola Naval Air Station, Fla. for flight training. He completed primary and intermediate training with Training Squadron 4 and continued advanced strike training with Training Squadron 86.

Patterson was designated a naval flight officer in April 2002, and was selected for follow-on training in the EA-6B Prowler for VAQ-129 at Whidbey Island Naval Air Station. After completion of Fleet Replacement ECMO training, Patterson reported to the "Shadowhawks" of VAQ-141. While aboard VAQ-141, Patterson was the first lieutenant, aircraft division officer and assistant operations officer.

In 2005 and 2006, Patterson deployed with VAQ-141 onboard USS Theodore Roosevelt in support of Operation Iraqi Freedom.

In August of 2006, he reported to VAQ-129 for his EA-6B Prowler Fleet Replacement Squadron instructor tour. During his instructor tour, Patterson was a carrier qualification ECMO, the crew resource management program coordinator, and NATOPS instructor in addition to EA-6B systems instructor, schedules officer, student control officer and fleet accessions officer.

In November of 2009, Patterson joined Carrier Air Wing 7 staff during workups for deployment operations. In January 2010, he deployed with Carrier Air Wing 7 in support of Operation Enduring Freedom onboard USS Dwight D. Eisenhower. During his tenure with the air wing, Patterson was the current operations officer and electronic warfare officer where he developed, coordinated, and oversaw the execution of operational tasking of the seven tenant squadrons.

In January of 2011, Patterson was selected to serve as flag secretary to Commander, Carrier Strike Group 8 where he managed the administrative responsibilities of more than twenty tenant commands in addition to duties directly for the commander.

Patterson then reported to the U.S. Naval War College in Newport, R.I. where he earned a master's degree in national security and strategic study.

In December of 2012 he once again checked into VAQ-129 for instructor duty in the EA-6B Prowler, serving as the operations officer.

Patterson achieved a highly successful flying career in the EA-6B Prowler community, with an impressive carrier and combat career in direct support of OIF/OEF ground units. His personal awards include the Strike/Flight Air Medal (4), Navy and Marine Corps Commendation Medal (3), Navy and Marine Corps Achievement Medal, and various campaign and unit awards.
Alan is buried in the Naval Academy Cemetery; there is also a joint grave for all three crew members lost in Arlington National Cemetery.
Remembrances
Love defined Alan's life, and all things forthright were merely different angles of the love Alan sent downrange and the love he pulled to him every timeline tick of his being. One must only look to the great Love of his life, Denise, who was his welcome companion and soul-mate from the moment their pre-destined union began. Alan loved his daughters, Emma Grace and Annsley. There was nothing he would not do for them, nor were there limits to the attention he necessitated to their lives and well-being. A more positive presence, one would not find other than Alan. Alan honored his family, because he loved his family. His devotion to his parents was paramount, always finding the time to say thank you for the opportunities and support they gave him. He loved his siblings, wasting no moments to be there for them if needed or asked. Alan loved the Navy. He spied the Naval Academy, the goal of attendance and subsequent graduation ever in his thoughts. Upon graduation, his shouts of joy became firm words of devotion as his Aviator Wings sought luster on his chest. Love for his work, his duty, drove a stellar career that forged bonds with Navy kin the world over, bonds thicker than steel cables ever could lash. For now, Alan has departed the pattern in search of fairer skies. Alan is Loved by his family, who ask that you remember him, forever. Phillip Patterson, father
Related Articles
Valerie Cappelaere Delaney '09 and William B. McIlvaine '10 were also killed in this crash.
Alan is one of 4 members of the Class of 2000 on Virtual Memorial Hall.
The "category" links below lead to lists of related Honorees; use them to explore further the service and sacrifice of the alumni in Memorial Hall.