Category:1902
From USNA Virtual Memorial Hall
Graduates: 59
Non-graduates: 26
In Memorial Hall: 2
Note: Thomas Ozburn does not meet the criteria for being included in Memorial Hall. For completeness, however, his name appears in the list below and in the total above.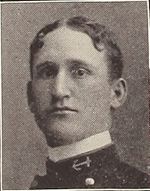 Class of 1902
LT, USN
Murphysboro, Illinois.
July 2, 1911 (32 years old)
Loss not yet recorded
---
---
Pages in category "1902"
The following 2 pages are in this category, out of 2 total.