ALBERT B. HALL, JR., LCDR, USN
From USNA Virtual Memorial Hall
Birthdate & Date of Loss
| | |
| --- | --- |
| Date of birth: | August 2, 1918 |
| Date of death: | November 4, 1948 |
| Age: | 30 |
Lucky Bag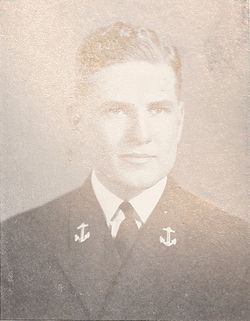 From the 1942 Lucky Bag:
ALBERT BROWN HALL, JR.

Al, A.B.

Since A.B. left Southern Methodist, only one consequential worry has beset him, girl trouble. His quiet ways don't keep him from making friends, and a plugger of his type never fails. A high pitched laugh has made him the butt of good natured jokes, but an unfailing sense of humor enabled him to pull through with spirits intact. One couldn't ask for a better wife or friend.

Track 4; 1 Stripe.
The Class of 1942 graduated on December 19, 1941, less than two weeks after the United States entered World War II. The class had previously been scheduled to graduate in February 1942.
Loss & Recovery
From The New York Times:
KIN OF NAVY FLIERS KILLED IN '48 SEEK REMAINS

WASHINGTON, Nov. 13 [1982] — Thirty-four years ago, a Navy bomber with nine crewmen disappeared in fog over the Canadian Rockies. Thirteen years later, a prospecting nickel miner happened upon the splintered wreckage of the aircraft. For the last 20 years the men's families have been pleading with the Navy to bring the remains back, but the Navy refuses.

I have a right to have my brother home, says Raymond H. Swentek, a former Navy flier who quit the service in anger over its handling of the matter.

The Navy is willing to do whatever is reasonable but we just cannot justify the danger to other personnel, said Lieut. Tom Miller, a spokesman for the service. The Navy sent in a team to place a memorial plaque at the crash site years ago, but will do no more because of the perils of the terrain.

Mr. Swentek argues that the crash site, about 3,300 feet above sea level, is not that dangerous, noting that the Navy landed two search parties there safely, and that in September 1981, Richard Rudd, the son of one of the fliers, hiked to within a mile of the crash site in an attempt to see his father's makeshift tomb, but was stopped by bad weather.

Bomber Crashed in 1948

The plane carrying the nine men, a Lockheed PV2-2 bomber that was on a simulated mission over Vancouver, Canada, on Nov. 4, 1948, disappeared shortly after the pilot radioed that the wings were icing due to a faulty heater. The crew was listed as missing and presumed dead until T. Roy Hepworth, a helicopter pilot scouting for nickel ore, found the wreckage in 1961.

The first Navy search party found some human bones, which they buried beneath a pile of stones. Several months later, a second Navy group set a bronze plaque bearing the names of the nine men on the grave.

The Navy waited more than a year after the crash site was reported to notify relatives of the crewmen. It was wrong that they didn't tell us, said Virginia Hall, who was 27 years old and pregnant with her fourth child when her husband, Albert B. Hall Jr., died in the crash. It was wrong that they never offered to bring them back. A Blurred Photograph

All they did was send a black and white snapshot of the grave, but it's so blurred you can't tell which way to hold it so it's not upside down, said Mr. Swentek. His mother, Phyllis Steiner, now 80 years old, was so distraught over the incident that Mr. Swentek resigned his commission from the Navy and vowed to persuade the authorities to bury the remains of his brother, Edward T. Swentek, and the others under a group stone in Arlington National Cemetery.

He has written dozens of letters to the Navy, the White House and Congress. He persuaded Representative Melvin Price, Democrat of Illinois, to introduce a bill last year supporting his cause, but it failed to clear a committee.

Mr. Hepworth has estimated it would cost about $20,000 to send a pilot and some Canadian prospectors to the site. Mr. Swentek says that if the Navy will not pay for the mission he and the other families will try to find some way to finance it themselves.

He has been in touch with the families of Mr. Hall, Taz Vernon Rudd and, last Monday, George E. Egeter. The families all say they support him in his fight and say they would consider raising the money themselves.

He is still trying to find relatives of Wilbur W. Titsworth, James J. Lytle, George Leander Cole Jr., John Francis Duval, and John Harold Wood. Each time he discovers another relative of a crew member, Mr. Swentek says, he discovers someone else who cannot quite let go of the past.
It appears that Mr. Swentek was successful; Albert and the rest of the crew have a group burial marker in Arlington National Cemetery.
The crew and airplane belonged to Patrol Squadron (VP) 1.