ALEXANDER M. LUPFER, JR., LCDR, USN
From USNA Virtual Memorial Hall
Alexander Lupfer, Jr. '58
Date of birth: May 3, 1935
Date of death: May 13, 1967
Age: 32
Lucky Bag
From the 1958 Lucky Bag:
Loss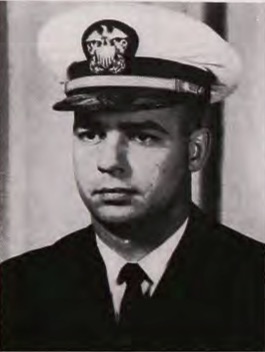 From the September-October 1967 issue of Shipmate:
LCdr. Alexander M. Lupfer, USN, died in the crash of a TF9-F Cougar jet southwest of Kingsville, Tex., on 13 May. He was serving as flight instructor, Training Squadron 23, Naval Auxiliary Air Station at Kingsville at the time of the accident. Services and interment were held at Arlington National Cemetery on the 18th.

LCdr. Lupfer attended Admiral Farragut Academy before entering the Naval Academy, from where he was graduated in 1958. He was born in Miami, Fla. Following his designation as naval aviator in March 1960 he served with Fighter Squadrons 124, 142, 132, and 53, and was operations training officer for Fighter Squadron 194 preceding his attending the Naval Postgraduate School at Monterey, Calif., where he completed aeronautical engineering and engineering science courses. He joined Training Squadron 23 in June 1965. He held the Expert Rifleman Medal and the Armed Forces Expeditionary Medal for services in Vietnam.

Surviving are his widow, Glenda Louise, and daughter, Pamela, of 1021 Hall SL, Kingsville; his mother, Mrs. Dorothy B. Lupfer of Kendall, Fla.
He is buried in Arlington National Cemetery.
Alexander is one of 28 members of the Class of 1958 on Virtual Memorial Hall.
The "category" links below lead to lists of related Honorees; use them to explore further the service and sacrifice of the alumni in Memorial Hall.