ALFRED E. CREIGH, III, PFC, USA
From USNA Virtual Memorial Hall
Alfred Edgar Creigh, III was admitted to the Naval Academy from Texas on July 16, 1942 at age 18 years 8 months. The 1944 Naval Academy Register lists him as resigning on April 12, 1943 with this note: "Deficient in studies. Recommended to be dropped. Permitted to resign."
Lucky Bag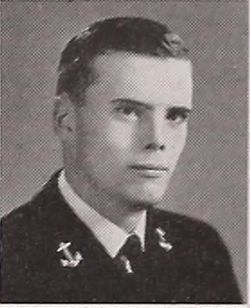 Alfred Edgar Creigh is listed among those "gone but not forgotten" in the Class of 1946 Lucky Bag.
Loss
From Find A Grave:
PFC, 307 ENGR BN, 82 ABN DIV WORLD WAR II

Home: Terrell Co, TX.

Service ID: 38440810
He was a member of D Company, 307th Airborne Engineer Battalion, 82nd Airborne Division.
Find A Grave shows his date of death as 12/12/1944, but three other sites have 12/22/1944. Given that the 82nd Airborne Division was off the line on December 12 but was engaged in the Battle of the Bulge on December 22, seems more likely that the later date is correct and the Find A Grave date is incorrectly transcribed.
He was born in Boulder, Colorado.
Alfred was originally reported as missing, but presumed to be a prisoner of the Germans. He was "reared in Sanderson" Texas; his father was a "prominent West Texas attorney" who had recently moved into the Alpine, Texas area with Alfred's mother.
There is an (exceptionally confusing) account of his loss in the June 3, 1949 issue of Alpine Avalanche newspaper, on the occasion of his reburial. It seems it involved the demolition of a bridge in Belgium.
He was a 1941 graduate of the New Mexico Military Institute. He is buried in West Virginia.
Memorial Hall Error
All three sites above, the 1944 Naval Academy Register, and the killed in action panel have "III" suffix, but this is omitted from his name on the Class of 1944 panel.
Alfred is one of 35 members of the Class of 1946 on Virtual Memorial Hall.