BENNETT W. HOOKS, LCDR, USN
From USNA Virtual Memorial Hall
Lucky Bag
From the 1946 Lucky Bag:
Obituary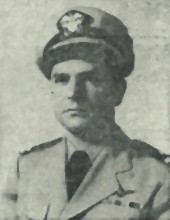 Bennett Hooks attended the United States Naval Academy and was graduated with the 1946 Naval Academy class.

Following graduation he served aboard the USS Philippine Sea (CVA-47) as a division officer in the gunnery department for three years. During this period he acted for a short time as an Aide to Admiral Richard E. Byrd on an expedition to the Antartcic .

He was then assigned duty with Anti-Submarine Squadron 22 and later served on the staff of Commander Carrier Division Eighteen. During this assignment he served as an Aide to Admiral A. B. Vosseler and Admiral F. T. Ward.

Lt. Hooks next attended the United States Navy Postgraduate School at Monterey, California where he successfully completed the course of instruction in nuclear engineering in June 1955.

Lt. Hooks was assigned duties as a VX-5 Project Officer at Moffett Field and at China Lake.

According to the base newspaper Lieutenant Bennett W. Hooks died around noon Wednesday, 05 October 1956 when his A4D Skyhawk was destroyed in a crash five miles south of Inyokern. CA. According to Henry White (VX-5 Feb.1956 - Oct. 1957) it was determined that Lt, Hooks was trying to bring his A4D in on the deserted runway at Inyokern during an in-flight fire. It was also said that the papers for his advancement to Lt. Cdr. were on his desk unsigned. The whole Squadron attended the funeral and he was buried at the Military Cemetery in San Diego with full military honors.

Lt. Hooks was 33 years old and was survived by his wife, a son, a daughter and his mother.
Shipmate
From the November 1956 issue:
BEN HOOKS was serving in Air Development Squadron Five at NOTS, China Lake, Calif., when he was killed in the crash of an A4D-1 Skyhawk on 10 October 1956. Ben's untimely death came one day after he had been promoted to Lieutenant Commander, he being one of our classmates selected from below the zone in the winter of 1955. Ben was a recent graduate of the Nuclear Effects PG course at Monterey and had already established for himself a n enviable record and fine reputation in the Navy. Jack Sickel, who was serving with Ben in VX-5, wrote: "His loss ends a most promising career and to his friends Ben left a timeless treasure—the rich privilege of having known him." Ben is survived by his widow, Marian, and two children, Ben, Jr., age 8, and Betsy, age 4 mos., who will remain with Marian's parents at 4155 Middlesex Dr., San Diego, until Marian establishes a permanent residence, probably in Coronado.

Ben w a s buried in Rosecrans National Cemetery. The class was represented at the funeral services by Jack Bailey, Marv Swanberg, Clif Clifton, Jack Sickel and Daisy Wilhoit. Flowers were sent in the name of the class and I received a note from Marian which said: "Dear Class of 1946, I was so touched when I saw your flowers. Ben would have been happy to know you remembered him. He was very proud he was a '46 graduate. Thank you for your kindness. It meant much to me."
Related Articles
William Armstrong, Jr. '46 and William Austin '46 were also members of 17th Company.
Bennett is one of 35 members of the Class of 1946 on Virtual Memorial Hall.