BRIAN R. HOKE
From USNA Virtual Memorial Hall
Lucky Bag
From the 1996 Lucky Bag:
Obituary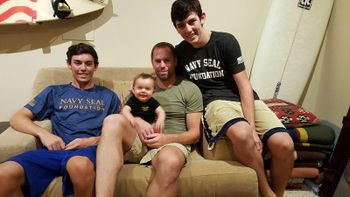 From the January-February 2017 issue of Shipmate:
BRIAN RAY HOKE '96

Lector Si Monumentum Requiris Circumspice.

"Reader, if you seek this man's monument—look around you," the priest spoke as 500 friends and family filled Memorial Hall on 28 October 2016 to reflect on the life of Brian Ray Hoke. A life cut far too short, but one lived more fully than most, Brian died in the service of his country on 21 October 2016 at the age of 42.

The youngest of three children, Brian was born on 4 April 1974 in Cambridge, NE, and grew up in South Dakota. From an early age, Brian loved the outdoors, hiking and fishing whenever he could. He excelled at every sport, notably football, basketball, and baseball, and later in life he developed an enduring passion for surfing. He was well-read, painted beautiful artwork and played the violin.

Brian graduated from USNA with the Class of 1996 and realized his dream of becoming a SEAL, graduating from BUD/S class 210 in April 1997. He served at SEAL Delivery Vehicle Team Two and SEAL Teams Three and Seven with deployments to EUCom and CentCom. Following his military career, Brian remained in government service as a civilian with tours in Iraq, Afghanistan and around the globe.

Brian married his wife, Christy, in 2008. His love for family apparent, Brian adopted Christy's two boys, Sean and Stuart. Brian and Christy added to their family in 2015 with the birth of Adelaide, whom Brian adored. Always a role model, Brian organized outings between cousins and siblings to knit his extended family closer together with outdoor activities and adventures. Despite a hectic work life, he stayed close with friends around the world.

Through his humility, sense of humor, talent, dedication and love for others, Brian became a larger than life figure who touched the souls of people from all walks of life. Most recently, Brian devoted himself to helping those from his group who had been wounded or killed, raising thousands of dollars for those who could no longer serve and those left behind.

Brian is survived by his wife, Christy; their three children, Sean, Stuart and Adelaide; his parents, Dan and Virginia; sister, Mary; brother, Dan Jr.; and their families.

Brian loved his family, his friends and his country. He gave his life protecting those he loved. He will be sorely missed, but never forgotten.

Brian will be buried in Arlington National Cemetery.
He is buried in Arlington National Cemetery.
Background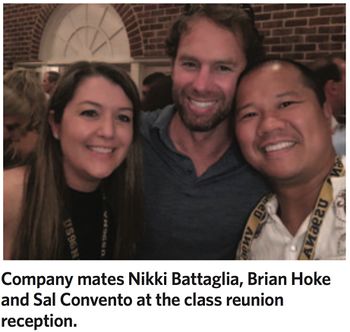 Brian wrote the following for the site Crowd Rise, where he sought to raise money for the Navy SEAL Foundation:
After a childhood spent in South Dakota, I began my military life by attending the United States Naval Academy, graduating in 1996. While at the Academy I became friends with Navy SEAL Foundation Board member Mike Martin. Together we graduated BUS/s Class 210. As a SEAL, I was stationed with Special Delivery Vehicle Team 2, SEAL Team 3, and SEAL Team 7 with multiple deployments to Afghanistan and Iraq. I am currently serving this great country as a civilian in the Department of State with overseas tours in Greece and Denmark. My beautiful wife, Christy, and I are raising our three great children, Sean, Stu, and Adelaide in Northern Virginia.
Loss
From the Loudoun Times-Mirror of Loudoun County, Virginia, on October 28, 2016:
A Leesburg man was recently killed in the conflict in Afghanistan, according to neighbors of the deceased.

"Brian Hoke of [Leesburg] died in service to our country this past weekend in Afghanistan," reads fliers posted alongside American flags in Leesburg's Oakcrest neighborhood.

"As we give his family time to grieve and come to grips of the situation," the note reads, "we thought it would be a kind gesture if the neighborhood could pay tribute and honor Brian and his family by displaying the American flag."

…
From the Daily Mail (UK) on September 6, 2017, Brian was killed "in a battle with ISIS militants outside the city of Jalalabad."
Hoke, a native of Park River, South Dakota, [VMH note: Park River is in North Dakota] and graduate of the United States Naval Academy, became a NAVY Seal in 1997, and joined the CIA in 2004.

He was taught how to become a spy handler, recruiting and managing agents in the field, and as a member of the SAD he was deployed both in warzones such as Iraq.

But he was also sent to Greece and Denmark under cover as a foreign service officer to broaden his knowledge and skills, and would unwind while at home from his missions by painting.

He was 'the kind of person movies are made about, as are most of his colleagues,' his wife, Christy, with whom he had three children, told the New York Times. 'Unbelievable human beings.'

'He lived by a code that I will not break for anything. Even writing this email feels like a small betrayal.'
From the Star Tribune (Minneapolis, Minnesota) on September 7, 2017:
On a sweltering day earlier this summer, operatives with the Central Intelligence Agency gathered at Arlington National Cemetery to bury two of their own. Brian Ray Hoke and Nathaniel Patrick Delemarre, elite gunslingers who worked for the CIA's paramilitary force, were laid to rest after a firefight with militants from the Islamic State of Iraq and Syria near Jalalabad, Afghanistan, close to the border with Pakistan.

There had been scant mention of Hoke's death in local news reports in Leesburg, Va., his home, and nothing at all about Delemarre in news accounts in the Florida Panhandle, where his family lives. Their deaths this past October were never acknowledged by the CIA, beyond two memorial stars chiseled in a marble wall at the agency's headquarters in Langley, Va. Today there are at least 18 stars on that wall representing the number of CIA personnel killed in Afghanistan — a tally that has not been previously reported, and one that rivals the number of CIA operatives killed in the wars in Vietnam and Laos nearly a half century ago.

The deaths are a reflection of the heavy price the agency has paid in a secret, nearly 16-year-old war, where thousands of CIA operatives have served since the attacks of Sept. 11, 2001.

The deaths of Hoke, 42, and Delemarre, 47, show how the CIA continues to move from traditional espionage to the front lines, and underscore the pressure the agency faces now that President Donald Trump has pledged to keep the United States in Afghanistan with no end in sight.

"We are going to be fighting this war for a very long time," said Ken Stiles, a former CIA counterterrorism analyst who worked closely with paramilitary officers in Afghanistan and who lost three friends in the war.

Hoke grew up in Park River, S.D., played violin and football in high school, graduated from the U.S. Naval Academy with a degree in oceanography and in 1997 passed the grueling test to become a member of the Navy SEALs. He was deployed to the Middle East and Europe, and in 2004 joined the CIA.

At the agency's training facility in Virginia , Hoke learned how to recruit and handle spies and the art of crafting secret messages. He stood out, a classmate recalled, as among the best in the class. Hoke moved on to the agency's advanced training course, held at a secret location in the southeastern United States, and was soon part of the agency's paramilitary arm, the Special Activities Division.

In 2008, Hoke was deployed in Afghanistan when he was called on to reinforce a group of CIA operatives who had been ambushed by the Taliban.

Friends say that Hoke turned to painting to help decompress after his tours. In an e-mail exchange, Hoke's wife, Christy, described her husband as "the kind of person movies are made about, as are most of his colleagues. Unbelievable human beings." Hoke left behind three children.

…

Since 2001, as thousands of CIA officers and contractors have cycled in and out of Afghanistan targeting terrorists and running sources, operatives from the Special Activities Division have been part of some of the most dangerous missions. Overall, the division numbers in the low hundreds and also operates in Somalia, Iraq, the Philippines and other areas of conflict.

On Oct. 21, 2016, Hoke and Delemarre were shot in an assault on an ISIS compound in Jalalabad, where the militant group has made inroads in recent years. Details are sparse.

Friends say that as Hoke made his way around a wall, a militant shot him. Hoke radioed that he was down, Delemarre heard his close friend's voice, left his position of safety and ran to Hoke's aid, but Hoke soon died. Delemarre was wounded in his attempt to help and was evacuated to Germany, where he died shortly after his wife arrived.

At the Arlington funeral of Hoke and Delemarre on July 14 — long delays before interment are common — heavily muscled men with beards and sunglasses sweated through their suit jackets as a Navy honor guard played taps and performed a rifle salute.

A program from the service shows a smiling Hoke in a tuxedo and a grinning Delemarre on the beach. On the back of the program is a quote from Adm. Chester W. Nimitz: "They fought together as brothers in arms; they died together and now they sleep side by side."
Family
His wife, Christy, is running a marathon on Antarctica. From Crowd Rise:
Si Vales, Valeo - When you are strong, I am strong

We lost Brian in Afghanistan in October 2016. Never in my life have I relied so heavily on my friends, his friends, and the amazing special operations community of which he was a part. A tribe of people -- both from Brian's work as well as our personal friends, family and local community - have stood guard around us like sentinels, keeping us safe and strong. Although I am the one physically going to Antarctica, many people have signed up for their own races to give me moral support and to help raise money for this campaign.
Other Information
From researcher Kathy Franz: "As a junior in 1991 at Central High School, Aberdeen, South Dakota, Brian played violin in the orchestra and was a member of the Student Senate, the Activities Committee and the basketball team."
Brian is one of 4 members of the Class of 1996 on Virtual Memorial Hall.
The "category" links below lead to lists of related Honorees; use them to explore further the service and sacrifice of the alumni in Memorial Hall.