BRUCE M. MCKALSON, LCDR, USN
From USNA Virtual Memorial Hall
Birthdate & Date of Loss
| | |
| --- | --- |
| Date of birth: | April 25, 1918 |
| Date of death: | September 10, 1946 |
| Age: | 28 |
Lucky Bag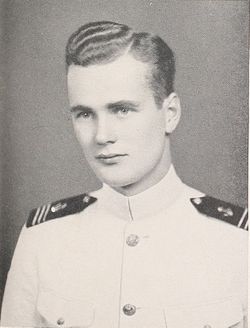 From the 1942 Lucky Bag:
BRUCE MORTON McKALSON

Mac

Big, blond, and terrific, but he could never convince himself that the col- lege man doesn't have the advantage over the midshipman. That's the fel- low the men in '42 (and also certain nearby and far-away young ladies) have come to know and love. While pulling a rugged crew oar and main- taining his academic and femme standing, he has built up an enviable circle of friends among the men of the Regiment.

Crew 4, 3, 2, 1; NA-10; 2 Stripes.
The Class of 1942 graduated on December 19, 1941, less than two weeks after the United States entered World War II. The class had previously been scheduled to graduate in February 1942.
Loss
From Find A Grave:
He became an aviator and was killed when his plane was involved in a non-hostile accident.
Date of his loss was September 10, 1946 in the Marianas islands. His service number was O-123482. Unable to find any details of his loss.
Wartime Service
It appears he served aboard USS Salt Lake City (CL 25) for nine months from February through November, 1942.