BURTON J. BROWN, ENS, USN
From USNA Virtual Memorial Hall
Birthdate & Date of Loss
| | |
| --- | --- |
| Date of birth: | unknown |
| Date of death: | February 26, 1945 |
| Age: | unknown |
Lucky Bag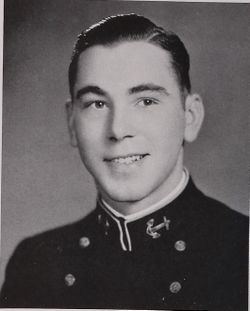 From the 1945 Lucky Bag:
Burton James Brown

McKeesrock, Pennsylvania

Occasionally a farmer who comes to the Academy doesn't go back to the cows and horses. Though the motives may vary, we feel sure that the answer this time is an intrinsic value that deserves success. Just as power of reserve, industry, steady logic, a sense of humor, and keen judgment go hand in hand with accomplishment—we expect to see B. J. travelling around where things are being done. Anybody's going to have to get up early, work hard, and stay late if he expects to get ahead of Mr. Brown, and the Fleet is going to be just that much better come June. Keep your eye on Burt. He's going places!

Football 4, "45"; Battalion Track 3; Battalion Football 1; Boat Club 3, 7.
The Class of 1945 was graduated in June 1944 due to World War II. The entirety of 2nd class (junior) year was removed from the curriculum.
From Hall of Valor:
The President of the United States of America takes pride in presenting the Navy Cross (Posthumously) to Ensign Burton James Brown (NSN: 0-389399), United States Navy, for extraordinary heroism and distinguished service in the line of his profession as Machine Gun Control Officer on board the Destroyer U.S.S. PORTERFIELD (DD-682), in action against the enemy during a night surface engagement on 26 February 1945, in the Pacific off the South East Coast of Japan. With the utmost disregard for his own personal safety, Ensign Brown refused to seek shelter from the intense enemy fire directed against the area in which he was controlling the battery, but remained fully exposed at all times. By his outstanding and courageous action he set an example that inspired not only his entire battery but all personnel aboard. His skill and courage were at all times in keeping with the highest traditions of the United States Naval Service.

General Orders: Commander In Chief Pacific Fleet: Serial 032079 (March 12, 1945)
Action Date: 26-Feb-45
Service: Navy
Rank: Ensign
Division: U.S.S. Porterfield (DD-682)
Related Articles
Robert Williams '45 was also in 4th Company.