CHARLES H. LIEBHAUSER, CDR, USN
From USNA Virtual Memorial Hall
Birthdate & Date of Loss
| | |
| --- | --- |
| Date of birth: | February 19, 1921 |
| Date of death: | 1956 |
| Age: | ~35 |
Lucky Bag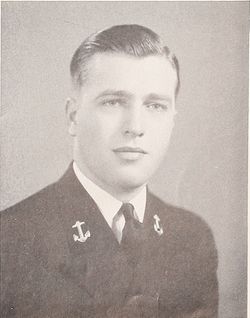 From the 1942 Lucky Bag:
CHARLES H. LIEBHAUSER

Dutch, Chuck

Dutch has his happiest moments when he can accompany a song fest with his guitar or just plain harmonize. He thoroughly enjoys a good, thought-provoking argument and can contribute facts which almost invariably win the point. Except for a few isolated times, Dutch has been a member of the radiator squad, while reading and dragging have been his favorite diversions. A philosopher at heart, he sometimes surprises his oldest friends.

Battalion Football; Battalion Swimming; Boat Club 2, 1; Mandolin Club 4, 3, 2. 1; G.P.O.
The Class of 1942 graduated on December 19, 1941, less than two weeks after the United States entered World War II. The class had previously been scheduled to graduate in February 1942.
Life & Loss
Unable to find any details about Charles' life or loss. From Find A Grave:
His body was lost at sea. His name appears on a monument at the USNA cemetery, under the title "Here We Remember Our Shipmates Whose Resting Places Are Known Only To God". However, his name is misspelled as "Leibhauser"
Other
He was an instructor in the Department of Marine Engineering in 1954 and 1955.