CHARLES M. WOOD, JR., LCDR, USN
From USNA Virtual Memorial Hall
Birthdate & Date of Loss
| | |
| --- | --- |
| Date of birth: | December 1, 1917 |
| Date of death: | March 22, 1945 |
| Age: | 27 |
Lucky Bag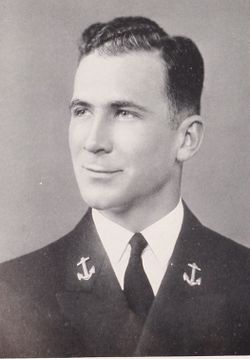 From the 1940 Lucky Bag:
CHARLES MILLS WOOD, JR.

Princeton, Kentucky

The man is from Kentucky and don't let anyone tell you differently. He took academics in his stride and was always ready to give a helping hand. Although athletics were not a part of his regular routine, he was always ready for a tussle in the corridor. Well-versed in conversation, "halting the breeze" is his long suit. His bass voice made him a natural for the Glee Club, but in that connection, never ask him to do a Sailor's Hornpipe. As for the fairer sex — "there's safety in numbers." His gripe: inefficiency of the Postal Department. His good points: sincerity, dependability, and a good nature.
Career & Loss
From History of Class of 1940:
Charles Mills Wood, Jr. ("C.M." to his family and "Jughead" to his Naval Academy friends) was one of fourteen of the class of '40 who reported to USS NEVADA (BB36) upon graduation. During the two years, he served in NEVADA, Jug was assigned to communications. Ashore in Honolulu on December 7, 1941, he managed to get back on board while the Jap attack was still in progress. He stayed with NEVADA during salvage at Pearl Harbor and return to Bremerton for repairs and modernization.

In the summer of 1942, he married Nell Rice Wynn, his Naval Academy OAO and Ring Dance date. Orders to flight training brought detachment from NEVADA in October, 1942. In May, 1943, a son, Charles Mills Wood III was born; and Jug was perhaps even prouder of his son than most new fathers. (C.M. Wood III graduated from USNA in the class of 1965 and recently retired as a Commander, USN, after a career in submarines).

Upon completion of flight training, Jug was ordered to VPB-149. After being stationed on Cape Cod and at NAS Quonset Point, Rhode Island, VPB-149 was ordered to the Pacific area and in February, 1945, arrived at Tacloban on Leyte Island, Philippines. On March 22, 1945, while on a routine patrol flight, which included an attack on a Japanese installation, Jug failed to return. He was declared missing and a year later was declared to be legally deceased. In 1950, a U.S. Army Graves Registration Team located a crashed PV-1 bomber in the area where Jug's plane had last been contacted. The remains of those found in the crashed plane were subsequently identified as those of Jug and his crew. They are buried in a common grave at the Fort Zachary Taylor National Cemetery in Louisville, Kentucky.

Jug was a good friend, an outstanding naval officer and a strong person of the highest integrity and character. He has been sorely missed, especially by his family and those of us who knew him best. Al Cook on July 5, 2003
His wife was listed as next of kin.
Obituary
From Find A Grave:
7 SEP 1950 - OBIT: Final rites for Lieutenant Commander Charles Mills WOOD, Jr., and members of his fighter bomber crew will be held at 11:30 Friday morning, Sept. 8, at Zachary Taylor National Cemetery, near Louisville. The plane in which Lt. Comdr. Wood and his men were flying disappeared during a bombing mission in the Philippines on 22 MAR 1945 and only recently was found and the men identified. Lt. Comdr. Wood was the son of the late C.M. Wood of Princeton and Mrs. Wood who now resides in Louisville. After finishing his high school work in Princeton he attended Marion Military Institute, Marion, AL and graduated from the United States Naval Academy at Annapolis, MD in 1940. He served aboard the battleship U.S.S. Nevada before going into Naval Aviation. He married the former Nell Rice WYNN of Providence and is survived by one son, Charles Mills Wood III. Providence Journal-Enterprise