CHARLES S. ROWLEY, COL, USAF
From USNA Virtual Memorial Hall
Lucky Bag
From the 1954 Lucky Bag:
Loss
From Virtual Wall:
On the night of 21/22 April 1970 an AC-130A (tail number 54-1625, call sign "Ad Lib") of the 16th Special Operations Squadron departed Ubon RTAFB, Thailand, for a "truck-busting" mission along the Ho Chi Minh Trail in southern Laos. Two tactical aircraft, call signs Killer 1 and Killer 2, joined the AC-130 enroute to the workinng area.

At about 2 AM, while working a target some 25 miles east of Saravan, Laos, Ad Lib was hit by 37mm AAA fire and caught fire. Apart from a single advisory by Major Brooks, no radio calls were received before the burning AC-130 disappeared into the jungle below.
There was one survivor, who was rescued the next morning. Also lost:
COL William L. Brooks, pilot, Tolar TX
1st Lt John C Towle, copilot, Harrisburg IL
LtCol Charlie B Davis, navigator, Daysboro KY
Maj Donald G Fisher, navigator, Hazleton PA
MSgt Robert N Ireland, flight engineer, San Bernardino CA
SSgt Thomas Y Adachi, aerial gunner, Los Angeles CA
SSgt Eugene L Fields, aerial gunner (survived)
SSgt Stephen W Harris, illuminator operator, Springfield MO
SSgt Ronnie L Hensley, Richwood WV
A1c Donald M Lint, aerial gunner, Des Moines IA
Return
Chuck's remains seem to have been returned in 1995, though contemporaneous accounts do not follow the disagreement between his daughter, Patti Hallman, and the US Government to its completion.
Remembrances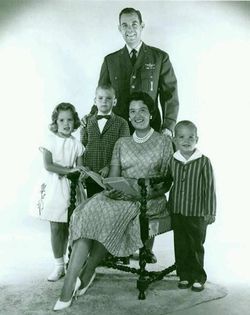 From Wall of Faces:
There are so many wonderful stories to tell you about my Dad. He wasn't with us long, but he is etched on my heart forever. He was my spiritual guide as a young child. The first time he shared the Eucharist with me was one of the most profound moments in my life. He taught many of the neighborhood kids how to ride bikes. The best hiding place for me was behind the newspaper, on his lap, ever so quietly enjoying his warmth as my brothers looked. My Dad never gave me away. He protected me.

He is my hero. He always will be! 'I love you, Dad!' PATTI ROWLEY, POWDAD@AOL.COM, 4/8/13
This is MY Hero! I Love and Miss my Father. JAMES W. ROWLEY, 11/13/99
I was in the 16 SOS with Col.Rowley .I was not flying that night when #625 went down.He was A good SPECTRE . I will never forget him. CAPT. JEFFREY A. PARKER, DALLASPARKER@ALASKALIFE.NET, 3/2/00
Charles is one of 37 members of the Class of 1954 on Virtual Memorial Hall.