CYNTHIA S. GRUBBS, LTJG, USN
From USNA Virtual Memorial Hall
Lucky Bag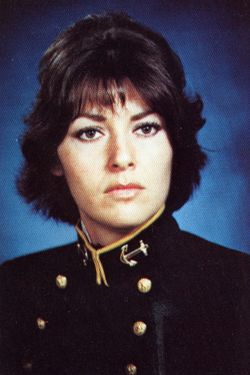 Obituary
From the March 1984 issue of Shipmate:
Lt. (jg) Cynthia Suzanne Grubbs USN was reported dead on 26 November 1983 as the result of an aircraft accident over the Mediterranean Sea. Lt. (]g) Grubbs was piloting a cargo plane at the time; no remains of the aircraft or the personnel on board were recovered.

Appointed to the Naval Academy from the State of Texas, Lt. (jg) Grubbs had attended the University of Texas studying aero engineering for a year prior to reporting to the Academy, where she was graduated with the Class of 1980. An extremely versatile and talented Midshipman, she had her private pilot's license, was a sky diver, a scuba enthusiast, and an accomplished artist when she reported to the Academy. Upon graduation she was ordered to flight training and designated naval aviator, serving with FLELOGSUPPRON TWO FOUR (VR-24) at Sigonella, Italy, at the time of her death. She was a life member of the Naval Academy Alumni Association.

She is survived by her parents, Mr. and Mrs. Clifton M. Grubbs, 1315 Meriden Lane, Austin TX 7870.
Timeline
From Austin News Story:
May 10, 1955: Suzanne was born in Ft. Worth, Texas.

1955 - 1958: Her first three years were spent in Boston where her father was finishing up his Ph.D. at Harvard.

1959: Family spent a year in Amherst at the U. of Massachusetts.

1959: At the age of 4, Suzanne's family left Amherst for her father's first teaching job at the U. of Colorado. Suzanne spent the next several years growing up on a small farm in Boulder and riding her horse "Sugar."

July 1969: The family left Boulder and Colorado University for the U. of Texas in July of 1965, where they bought a house in Austin, Texas on 1315 Meriden Lane, and lived there until 1989. Suzanne's father taught at the U. of Texas in the Department of Economics.

June 29, 1972: Suzanne completes NAUI Qualified Scuba Diver certification course.

1973: Upon graduating from High School, she was enrolled at UT with a major in aerospace engineering and minor in math. Not only did she graduate at the top of her class in high school, but also was a member of Alpha Lambda Delta, the national freshman honor society at UT.

May 12, 1973: Suzanne completes NAUI Advanced Scuba Diver certification course.

May 27, 1973: Suzanne completes United States Parachute Association First Jump Certificate.

June 19, 1975: Suzanne completes NAUI Assistant Instructor certification course.

June 27, 1976: Suzanne completes Private Pilot Certification course.

July 6, 1976: She attended UT for two years, and then in 1976, she received her appointment to the Naval Academy. It was the first class of women to be accepted into the Academy. 1,274 midshipmen were inducted in the summer of 1976, eighty-one of them women.

September 10, 1979: Midshipman First Class Cynthia Grubbs, USN, name is added to the Commandant's List at the Naval Academy.

May 28, 1980: Suzanne was graduated from the U.S. Naval Academy in Annapolis, Maryland with 54 other women. She received her Bachelor of Science degree and was assigned to Flight School in Pensacola, one of two women from the Academy to be the first women graduates sent to Flight Training.

April 8, 1981: Suzanne was placed on the Commodore's List with Distinction for academic and flight training at Naval Air Station, Whiting Field. This distinction is achieved by only five percent of 900 students assigned.

August 28, 1981: Ensign Cynthia S. Grubbs, USN was designated a Naval Aviator at Corpus Christi Naval Air Station .

1981: Suzanne's first assignment was at the Naval Air Station, VR-24 in Sigonella, Sicily, a NATO base. She fell in love with carrier aviation, having accumulated over 40 arrested landings and 600 flight hours.

May 28, 1982: Suzanne was appointed Lieutenant (Junior Grade) in the United States Navy.

May 20, 1983: Suzanne was recommended for Jet training for pursuing a career in flying tactical jet aircraft.

November 23, 1983: Flying back to Sigonella from Palma, Spain for Thanksgiving, two C-1A's, one piloted by Suzanne, were flying back together. Somewhere over Sardinia these planes disappeared and were not heard from again. Navy officials announced the accident as a probable mid-air collision.

April 18, 1984: The Fleet Logistics Support Squadron Twenty Four posthumously awards the squadron plaque to Suzanne. Suzanne had initiated the design of the new Lifting Eagle name on the emblem.

June 27, 1984: The Senate of the State of Texas passes Senate Resolution Number 156 in memory of Cynthia Suzanne Grubbs. Suzanne was one of 12 women qualified to fly the C-1A Trader plane and one of 13 women aviators qualified to land on aircraft carriers.
Other
According to a post at Together We Served, Cynthia was engaged to LT Michael G. Veringa, who was also killed in this crash.
Cynthia is one of 11 members of the Class of 1980 on Virtual Memorial Hall.