DANIEL H. MORAN, JR., LT, USN
From USNA Virtual Memorial Hall
Lucky Bag
From the 1963 Lucky Bag:
Loss
From USNA Class of 1963:
LT(jg) Moran's A-4E (BuNo 151168) was hit by antiaircraft fire while he was participating in a strike on the Qui Vinh railroad yard about 10 miles southwest of Van Yen. Although the Skyhawk had a large hole in the starboard nose under the cockpit it remained flyable - and LT(jg) Moran took it out to sea. Escorting aircrewmen saw him move in the cockpit, but Moran was flying erratically and did not respond to radio or hand signals. Moran took his aircraft to the North SAR destroyer and ejected close alongside, but he was dead when a boat crew from the destroyer pulled him from the water.

LT(jg) Daniel Moran was USS Coral Sea's (CVA 43) last loss on her 66/67 cruise - the 16th combat loss and the 19th overall.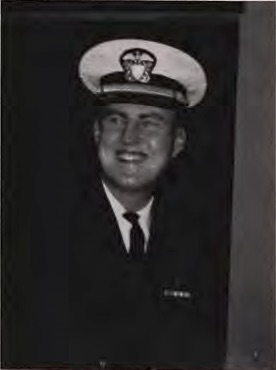 From the January 1968 issue of Shipmate:
Lt. Daniel H. Moran, USN, was killed in action in North Vietnam on 15 Jan. 1967 when the aircraft he was piloting was hit by enemy fire. He had been serving with Attack Squadron 23 in USS Coral Sea, and had completed 78 combat missions over North Vietnam prior to his death.

Lt. Moran was born in Chicago, Ill. and graduated from the Naval Academy in 1963. He was graduated second in his class at the Naval Air Pre-Flight School at Pensacola, then reported to Meridian, Miss., where he wona place on the Captain's List for a 58.93 average for the 200-hour academic course in basic jet flight training at the Naval Auxiliary Air Station. He received his wings at Kingsville, Tex., on 30 Oct. 1964, then reported to VA-125 at the Naval Air Station, Lemoore, Calif., for training in the jet A4E Skyhawk.

After reporting to the VA-23 "Black Knights" squadron on a combat cruise to Southeast Asia, he flew a total of 98 combat missions from May-November 1965, with additional duty as aircraft division officer. During his second tour he was the squadron's signal and schedule officer. On 29 July 1966 he returned to VA-23 for a second tour and flew the 78 combat missions. He was awarded the Distinguished Flying Cross, Air Medal with three silver stars, Navy Commendation Medal with one gold star and Combat Distinguishing Device, the Purple Heart, National Defense Service Medal, Vietnam Service Medal, Republic of Vietnam Campaign Ribbon Bar, and the Vietnamese National Order Fifth Class, Gallantry Cross with Palm, and Gallantry Cross with Bronze Star.

He is survived by his widow Charlotte of 4400 East West Highway, Bethesda, Md. 20014; his parents, Mr. and Mrs. Daniel H. Moran, Sr., a brother, John, and a sister Gabrielle, of Chicago.
Memorials
From USNA Class of 1963:
My brother Dan Moran attended St. Ignatius High School in Chicago, IL. He was a National Merit Scholarship Finalist and was the Editor-in-chief of the school newspaper which came out each Friday. He was the recipient of the "Silver Night Award," a citywide honor bestowed on one high schooler in the city for each academic area e.g., math, English. My brother received his for journalism. It was a grand night held each spring in downtown Chicago. The year Dan won, 1959, the ceremony was hosted by Danny Thomas and the keynote speaker was Senator John F. Kennedy of Massachusetts. Needless to say, we never forgot it! Dan met his future wife, Charlotte Mannix on a blind date at the Army/Navy game his second year at the Naval Academy. Charlotte's family was from Bethesda and she was a student at the Univ. of Maryland. They were married in Bethesda with a reception at the Kenwood Country Club the week after graduation from the Naval Academy. They never had children and Charlotte has never remarried. She lives today as she has for many years in The Hague, Netherlands.

Dan loved reading, was a Classics Scholar who studied Latin and Greek in high school. He continued his gift for language by studying Russian at Annapolis. He also loved to play Bridge and was quite good. Flying was, of course, his great love. It was so funny to us, his family, because he had a fear of heights and would not go out on the balcony of my parents' 9th floor condominium.

The last time I saw my brother was when he visited us in Chicago the Christmas after his tour of duty on USS Midway. I was 18 years old. He was greeted at the airport on arrival with his wife, by a host of news reporters and photographers. A large picture of him appeared in the Chicago Tribune the next day. Because he and Charlotte were using my room at home, I stayed a couple of miles away at the home of my aunt. Each morning my brother would drive over to pick me up so that I could come home and be with the rest of the family. On the way, he would take me out for pizza, a fine breakfast! He would ask me about my life, about my friends, about my future plans. It was the first time I got to know him and spend time with him because I was 11 when he went to college and he really never came back again.

I hope this information helps you. Thanks for remembering Dan. Gay Moran Pfeiffer
Distinguished Flying Cross
From Find A Grave:
The President of the United States of America takes pride in presenting the Distinguished Flying Cross (Posthumously) to Lieutenant Daniel Hagan Moran, Jr. (NSN: 0-669340), United States Navy, for extraordinary achievement while participating in aerial flight as a Pilot on 15 January 1967, in an attack squadron during a strike on an enemy rail yard in North Vietnam. Lieutenant Moran expertly executed a dive-bombing run which resulted in heavy damage to the target. Upon his return to his home carrier, he volunteered for a re-strike at the same target later that day. Although hampered by low visibility and heavy enemy defenses, he carried out a devastating attack which resulted in additional destruction of enemy supplies.
Daniel is one of 29 members of the Class of 1963 on Virtual Memorial Hall.
The "category" links below lead to lists of related Honorees; use them to explore further the service and sacrifice of the alumni in Memorial Hall.