DANIEL S. APPLETON, CAPT, USA
From USNA Virtual Memorial Hall
Date of birth: June 27, 1893
Date of death: November 3, 1924
Age: 31
Lucky Bag
"D.S. Appleton" is listed on the page titled "Lost At Sea."
Loss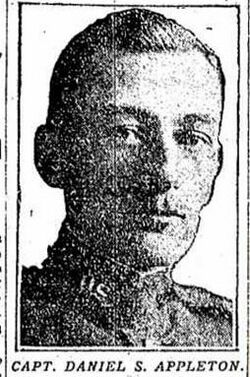 Unable to find any information about Daniel's loss. Daniel Sidney Appleton was born in New York but was appointed to the Naval Academy (and later joined the Army as a 2LT on November 30, 1916) from Washington, D.C. His place of death is listed as Washington, D.C.
He was survived by his wife and two sons, Daniel Jr. and Alanson; he is buried in Arlington National Cemetery.
It's unclear why he is listed first on the Class of 1917 plaque in Memorial Hall.
Career
On September 16, 1920, there was a large bomb detonated in New York City that killed 38 and injured over 400 others. Daniel was in command of Company K, 22nd Infantry Regiment, Fort Jay, and responded with his company to assist the police in crowd control.
"Captain Appleton is also the officer who compiled the official history of the 22nd Infantry Regiment, from the years 1904-1922."
In 1917 he was the commanding officer of Company E, 22nd Infantry Regiment.
Daniel is one of 8 members of the Class of 1917 in Memorial Hall.