DANIEL S. APPLETON, CAPT, USA
From USNA Virtual Memorial Hall
Daniel Sidney Appleton was admitted to the Naval Academy from Georgia on May 2, 1913 at age 19 years 10 months.
He stood number 19 in his class following his plebe year, but 106 after 3/c year. He was "dismissed" on December 15, 1915.
Lucky Bag
"D.S. Appleton" is listed on the page titled "Lost At Sea."
Loss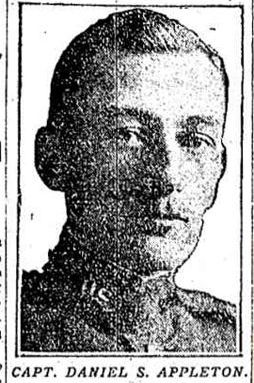 Daniel "died of illness" on November 3, 1924 in Washington, D.C.
Daniel was born in New York and entered the service from Washington, D.C. on November 30, 1916. He was immediately promoted to 1LT, to date from December 4, 1916. He became a Captain of Infantry on August 3, 1917.
He was survived by his wife and two sons, Daniel Jr. and Alanson; he is buried in Arlington National Cemetery. His place of death is listed as Washington, D.C.; Find A Grave makes mention of the Army War College.
It's unclear why he is listed first on the Class of 1917 plaque in Memorial Hall. The Register of Alumni gives his name, rank, USA, but no other information.
"The Late Captain Appleton"
The American Review of Reviews, Volume 71, has an article that begins as follows: Captain Daniel S. Appleton, of the United States Army, who contributed to the remarkably well-informed article that immediately precedes this biography, has died at the Walter Reed." Unfortunately, have been unable to find a scanned copy of this publication.
It seems that the magazine is in the collection of the University of Maryland, among other places.
Career
On September 16, 1920, there was a large bomb detonated in New York City that killed 38 and injured over 400 others. Daniel was in command of Company K, 22nd Infantry Regiment, Fort Jay, and responded with his company to assist the police in crowd control.
He was also the officer who compiled the official history of the 22nd Infantry Regiment, from the years 1904-1922.
In 1917 he was the commanding officer of Company E, 22nd Infantry Regiment.
From March 1921 through at least September 1922 he was with the 65th Infantry in Puerto Rico; his son Alanson was born there.
Daniel is one of 9 members of the Class of 1917 on Virtual Memorial Hall.
The "category" links below lead to lists of related Honorees; use them to explore further the service and sacrifice of the alumni in Memorial Hall.