DAVID A. KNOTT, LTCOL, USMC
From USNA Virtual Memorial Hall
Date of birth: September 30, 1949
Date of death: June 19, 1991
Age: 41
Lucky Bag
From the 1971 Lucky Bag:
Loss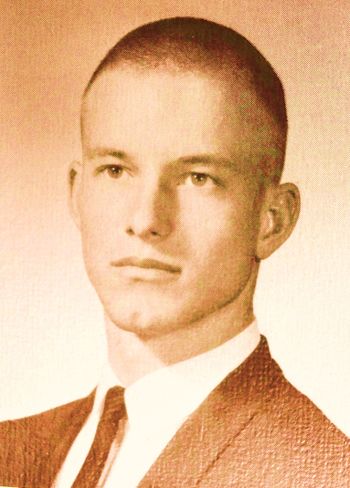 From Los Angeles Times on June 20, 1991:
Two Marine aviators, one a squadron commander, were killed Wednesday when their Cobra attack helicopter crashed in rough terrain at the Naval Weapons Station near Fallbrook during a nighttime training mission.

The AH-1 Cobra, a heavily armed, jet-powered aircraft designed to fly low and destroy enemy tanks and troop positions, crashed about 12:40 a.m. at the weapons storage facility, which is next to Camp Pendleton, said Gunnery Sgt. Dave Marriott, a Marine Corps spokesman.

The victims were identified as Lt. Colonel David A. Knott, 40, of David City, Neb. and Capt. Michael M. Vagedes, 27, of Centerville, Ohio. It could not be confirmed if either aviator was a Desert Storm veteran.

The crew and helicopter were from Marine Light Attack Helicopter Squadron 267, which was commanded by Knott, according to Cpl. Deidre Hinkle, a Camp Pendleton spokeswoman. The squadron, based at Camp Pendleton, is part of the Marine Aircraft Group 39.

Knott and Vagedes were participating in a night training flight when the crash occurred, Marriott said. …
The crash occurred on June 19, 1991.
Dave is buried in Arlington National Cemetery.
David is one of 14 members of the Class of 1971 on Virtual Memorial Hall.
The "category" links below lead to lists of related Honorees; use them to explore further the service and sacrifice of the alumni in Memorial Hall.