DEWEY A. ELLIS, JR., LTJG, USN
From USNA Virtual Memorial Hall
Lucky Bag
From the 1948 Lucky Bag: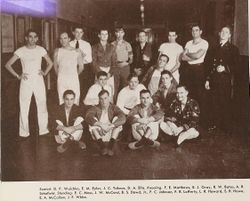 Loss
Dewey was lost in the crash of his PB4Y-2 Privateer aircraft at NAS Argentia, Newfoundland, on October 6, 1952. The aircraft was assigned to Patrol Squadron (VP) 24 at the time; assume Dewey was as well, though there is no information posted about fatalities or the crash itself, except the location, date, and bureau number of the aircraft.
Family
He was survived by his wife, Lenora Irene "Molly" Hopkins Ellis, who met Dewey when she was stationed at USNA while a member of the WAVES. They had two children: a daughter, Claudia, and a son, Dewey. Both were alive as of Molly's obituary in 2013; there were also four grandchildren and nine great-grandchildren as of that writing.
Dewey is one of 46 members of the Class of 1948 on Virtual Memorial Hall.