DONALD G. BROWN, LCDR, USN
From USNA Virtual Memorial Hall
Lucky Bag
From the 1957 Lucky Bag:
Loss
From the June-July 1967 issue of Shipmate:
LCdr. Donald G. Brown, USN, died 10 March as the result of an aircraft accident involving a Navy C-47 transport which crashed and exploded northeast of Saigon on the coast of the South China Sea. Memorial services were held in Saigon on the 17th, and in Waco, Tex., on 13 April, following interment with full military honors in Arlington National Cemetery on 11 April.

LCdr. Brown, who was born in Meridian, Miss., but grew up in Texas, attended Baylor University and Rice Institute during 1949-53, and was graduated from the Naval Academy in 1957. He served in the ALLEN M . SUMNER until August 1960, then attended t h e Naval Postgraduate School at Monterey, receiving a Bachelor of Science degree in electrical engineering.

He served in the CAEILDO from 1962-64, and in the Office of the Chief of Naval Research until 1966, prior to reporting to Commander Naval Forces, Vietnam for staff duty in Saigon as plans officer of the Coastal Surveillance Force. He was due for detachment and was ordered as executive officer of the ASHLAND at the time of his death.

He is survived by his widow, Ann Wilson Brown of 5820 Parapet St., Long Beach, Calif.; his parents, Mr. and Mrs. George Thomas Brown of Waco; a sister, Mrs. Beverly M . Winters also of Waco, and a step-brother, Mr. James D. Dawson of Tucson, Ariz.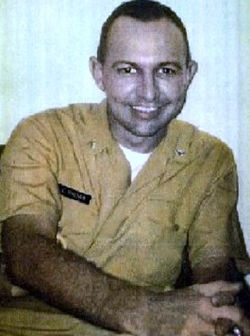 From Wall of Faces:
On March 10, 1967, a U.S. Navy VC-47J (#99844) from Tan Son Nhut Air Base Detachment, Naval Support Activity (NAVSUPACT) Saigon, USNAVFORV, suffered a wing failure and crashed into a hillside near Phan Rang while on an administrative Navy flight between Cam Ranh Air Base and Tan Son Nhut Air Base in Saigon, RVN. There were no survivors. The crew included pilot LCDR Robert G. Kerr Sr., co-pilot LCDR Leo C. Hester Sr., and crewmen ADR1 Cecil L Chapman and AE3 Francis R. Ferron Jr. There were 10 passengers: LT James M. Albright, LCDR Donald G. Brown, LT John C. Crawford, JO1 William C. Eckes, SP4 John H. Flynn, SFC Byron D. Hamlett, CAPT James J. L. Johnson, 2LT Roger W. Rabey, and CAPT Jacob F. Stepan.
He was a surface warfare officer who was a member of HQ, TF 115 (Riverine forces).
Remembrances
From Wall of Faces:
We are very proud of Donald, who was Gung-Ho Navy and loved his country. Graduate of U.S. Naval Academy and postgraduate work in Monterey, CA. George T. Brown, father, 10/1/01
Memorials
Don is among those names on the Vietnam Veterans Memorial in Washington, D.C. As his loss was not due directly to hostile action, though, he does not appear in the Vietnam War section of the Killed In Action panel in Memorial Hall.
Related Articles
Ted Higgins '57 was also a member of 14th Company.
Donald is one of 38 members of the Class of 1957 on Virtual Memorial Hall.