DONALD H. SPANGLER, LTJG, USN
From USNA Virtual Memorial Hall
Birthdate & Date of Loss
| | |
| --- | --- |
| Date of birth: | May 29, 1918 |
| Date of death: | November 13, 1942 |
| Age: | 24 |
Lucky Bag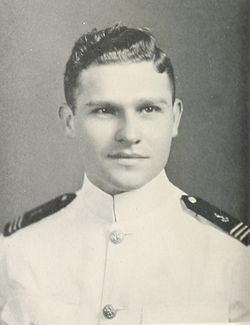 From the 1942 Lucky Bag:
DONALD HAYS SPANGLER

Don, Red, Spang

Don long ago secured a hold on life thai has since kept it well in hand. He has never worried about what might happen; he has it all figured out. Four years ago he picked his career and his girl. Now there's nothing in do but wait… the battle is two-thirds won. One stubborn enough not to play traitor to his red hair, and one never unprepared, Don is a lad who will do his own driving in life—with no wrong turns.

Battalion Tennis; 1 Stripe.
The Class of 1942 graduated on December 19, 1941, less than two weeks after the United States entered World War II. The class had previously been scheduled to graduate in February 1942.
Loss
Donald was lost when USS Atlanta (CL 51) was sunk on November 13, 1942 during the Naval Battle of Guadalcanal.
He has a memory marker in Indiana.
Note: Unclear why Donald's name is out of chronological order.
Namesake
USS Spangler (DE 696) was named for Donald. Sponsored by Mrs. Myrtle Spangler; unclear on the relation.