DONNIE L. DARROW, MAJ, USMC
From USNA Virtual Memorial Hall
Lucky Bag
From the 1960 Lucky Bag:
Shipmate
Much to my distress, I received word in January that one of my other roommates, Donnie Darrow, has been reported missing in Vietnam since last November. He had just arrived about two weeks before and had the misfortune of having his helicopter shot down north of Da Nang. His wife Norma was notified that he is missing and that he was presumably captured by the North Vietnamese, although the information is rather inconclusive. Nevertheless, Norma, who moved with the three children to Jacksonville, NC, soon after Donnie left Monterey for Vietnam, is very optimistic and thinks all will turn out well. I know all our classmates sympathize with Norma in this period of uncertainty for her and share with her the hope that Donnie will return. Shipmate, April 1968
Loss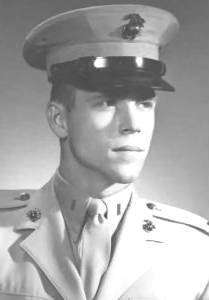 On 30 November 1967, an HMM-362 UH 34D disappeared during a flight from Marble Mountain Air Field to Phu Bai with the loss of four crewmen. Since the wreckage could not be located and there was no positive evidence regarding what had happened to the four crewmen, they were classed as Missing in Action and remained in that status for almost a year. On 22 November 1968 the wreckage of a UH34D was found at 16 nm east of Phu Bai by the 1st ARVN Division, 154th Regiment. The wreckage was identified as an HMM-362 aircraft missing since 30 November 1967. The remains of the four crewmen were found and removed to the mortuary at Da Nang. Marine Air Group 36 records
Remembrances
From Wall of Faces:
Donnie graduated from Lebanon, MO High School, Class of 1955. He was a star athlete in basketball and track. Donnie had the most beautiful left-handed jump shot and a wonderful smile for everyone. He was extremely well liked by all that knew him. Donnie may not be with us physically but he will always be with us in our memories. Rest in Peace Donnie. Your classmate, BILL KELLY, 2/11/01
Donnie is buried in Missouri.
Donnie is one of 28 members of the Class of 1960 on Virtual Memorial Hall.