DONOVAN L. EWOLDT, LTJG, USN
From USNA Virtual Memorial Hall
Date of birth: March 28, 1942
Date of death: July 29, 1966
Age: 24
Lucky Bag
From the 1964 Lucky Bag:
Loss
Donovan was lost on July 29, 1966 when his A-4 Skyraider "flew into the sea" on July 29, 1966, while attempting a night aerial refueling over the Gulf of Tonkin. He has a memory marker in Arlington National Cemetery.
He is listed on the "In Memoriam" page of the 1966 USS Oriskany cruise book. He has a memory marker in Arlington National Cemetery.
Oriskany had departed "the line" the day before Donovan's crash and was transiting to Subic Bay, Philippines. This is why he is not listed on the Vietnam Veterans Memorial. He does not appear on the killed in action panel in the front of Memorial Hall, either; he is, of course, listed with his classmates.
Shipmate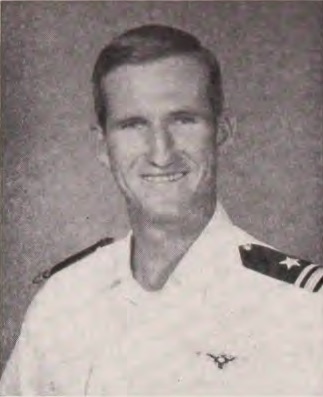 From the October 1966 issue of Shipmate:
Lt.(jg) Donovan L. Ewoldt, USN, was killed on 28 July when his plane exploded during aerial refueling operations near Cubi Point, R. P. Memorial services were held on 15 Oct. in St. Andrews Chapel of the Naval Academy.

Lt. Ewoldt, who was born in Minneapolis, Minn., was a graduate of Gordon Military School in Barnesville, Ga. He graduated from the Naval Academy in 1964 and received flight training at Pensacola and Beeville, Tex.; he was designated a naval aviator in February 1966. He was then assigned to the Naval Air Station, Cecil Field, Jacksonville. At the time of the accident he was serving with Attack Squadron 164 in the carrier USS ORISKANY, and had seen action in Vietnam.

He is survived by his parents. Warrant Officer and Mrs. Leon H. Ewoldt and a sister Leone, of 508A Perkins St., Ft. Benning, Ga., and his grandparents, Mr. John C. Hellerud of Twin Valley and Mrs. Leone C. Ewoldt of Waterloo, Iowa.
In the same issue's Class of 1964 column:
His enthusiasm for life and activity will never be forgotten. We join his family, Mr. and Mrs. Leon Henry Ewoldt of CIC, Fort Benning, Ga., in regret of his passing.
Donovan is one of 25 members of the Class of 1964 on Virtual Memorial Hall.
The "category" links below lead to lists of related Honorees; use them to explore further the service and sacrifice of the alumni in Memorial Hall.