EDGAR A. RAWSTHORNE, CDR, USN
From USNA Virtual Memorial Hall
Birthdate & Date of Loss
| | |
| --- | --- |
| Date of birth: | October 3, 1925 |
| Date of death: | December 29, 1965 |
| Age: | 40 |
Lucky Bag
From the 1949 Lucky Bag:
Edward A. Rawsthorne

NOGALES, ARIZONA

Business-like, straight forward, and amiable are the words which best describe Ed. He entered the Academy from the Marine Corps, where, as a corporal, he had seen action in the Pacific with the First Division. One of his main interests here was the pistol team which he helped to victory many times during his stay on the Severn. Secondary on his hit parade was his "gymnasium," which was open to anyone at any time as long as they didn't push a bar bell through a mirror. An active member of the Photo and Mechanical Engineering Clubs, Ed puttered around the Lab or the shops on Wednesday afternoons devoting his talents to making things he seldom used. He will be remembered by his classmates as a fellow who always had a cheery smile and a welcome "Huhh" whenever he met them in the hall or on the street.
Ed was captain of the pistol team.
Loss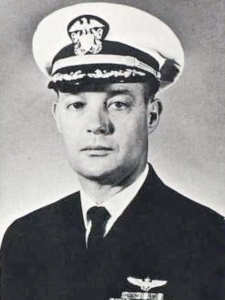 On 29 December 1965, F-4B #151412 was hit by enemy fire during Operation Barrel Roll and crashed in Mu Gia Pass. The Pilot, CDR Edgar A. Rawsthorne (Commander, VF-92), and his radar intercept officer, LT Arthur S. Hill, were both killed; their bodies were not recovered.
Ed was operating from USS Enterprise (CVN 65) as a part of Carrier Air Wing (CVW) 9.
Family
From Find A Grave:
Marital Status: Married - Alta Holmes Rawsthorne, Wife died October 1998, Sons, Danial Andrew Born March 29, 1953, Philip John, Born Sept. 7, 1956 and Charles Steven Rawsthorne born Nov. 10, 1958. Daughter, Ann Rawsthorne born Oct. 28, 1964. Parents: Father, Ralph Arthur Rawsthorne, He was born March 25, 1900 in Hamilton Ontario Canada, and died February 24, 1994 in Eloy, Arizona and Mother, Catherine White Rawsthorne, born July 29, 1906 in Crab Orchard, KY, and died November 05, 1987 in Kern County, CA.
Distinguished Flying Cross
Transcribed from a scanned copy of the citation, provided by email on June 10, 2017:
The President of the United States of America takes pride in presenting the Distinguished Flying Cross Posthumously to Commander Edgar A. Rawsthorne, United States Navy, for heroism and extraordinary achievement in aerial flight on 22 December 1965 while serving as Commanding Officer, Fighter Squadron NINETY-TWO, aboard USS ENTERPRISE (CVA(N)-65). As flight leader of the lead division, Commander Rawsthorne led the strike group consisting of thirty-two jet aircraft to the Uong Bi Thermal Power Plant at Haiphong, North Vietnam. At the target area he positioned his wingmen in a most advantageous position and then delivered a low-level bombing attack in the face of intense enemy ground fire. The flight carried thirty-six 500-lb bombs and all were delivered on target. By his outstanding leadership, skilled airmanship, and courageous devotion to duty, Commander Rawsthorne contributed materially to the success of this mission and upheld the highest traditions of the United States Naval Service.
He was also awarded seven air medals in his career; the last being for the period December 5 - 11, 1965.