EDMUND B. TAYLOR, JR., CAPT, USN
From USNA Virtual Memorial Hall
Date of birth: September 12, 1931
Date of death: May 8, 1972
Age: 40
Lucky Bag
From the 1953 Lucky Bag:
Loss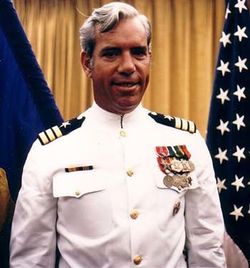 From Find A Grave:
Memorial services for Navy Capt. Edmund B. (Ted) Taylor Jr., chief of staff to Rear Adm. Rembrandt C. Robinson, were held Friday at Naval Air Station North Island Chapel.

Taylor is the nephew of Richard B. Taylor of 1602 Shawnee Rd. and the son of a Lima native, retired Vice Adm. and Mrs. E. B. Taylor of Virginia Beach, Va.

Capt. Taylor was aboard a helicopter which developed engine trouble and crashed as it attempted to land on the cruiser Providence in the Gulf of Tonkin. Adm. Robinson, commander of a cruiser-destroyer flotilla in Tonkin Gulf, was killed in the helicopter crash, and Taylor was at first listed as missing.

Taylor, 40, was commissioned as an ensign June, 1953, and was named chief of staff for Flotilla II on Jan. 28, 1972.

A resident of Coronado, Calif., he is survived by his wife, Joan, and four children.

(published in The Lima News, Monday, May 15, 1972)
In addition to the admiral, Commander John M. Leaver, Jr. was also lost in the crash. He has a memory marker in Arlington National Cemetery.
Family
Ted's father graduated with the Class of 1925 and retired as Vice Admiral. He was awarded the Navy Cross for action in WWII.
Remembrances
From Wall of Faces:
My dad was a great Naval Officer. He loved what he was doing and very proud of it. I was 15 when our family learned of him missing. To this day, 29 years later, I think of him every day and miss him immensely. I wish he was here to see all the beautiful grandchildren that he has now. I love you dad, Ted EDMUND TAYLOR, III, TEDRO2@JUNO.COM, 11/8/01
My Captain when I served aboard USS Benjamin Stoddert, DDG-22. A strong leader and a mans man. M.K. HOFFMAN, 4/7/01
Bronze Star
Unable to find a citation or other reference, but Ted is pictured wearing the Bronze Star.
Memorials
Ted is among those names on the Vietnam Veterans Memorial in Washington, D.C. As his loss was not due directly to hostile action, though, he does not appear in the VIetnam War section of the Killed In Action panel in Memorial Hall.
Edmund is one of 62 members of the Class of 1953 in Memorial Hall.