EDWARD L. KENNEDY, LT, USN
From USNA Virtual Memorial Hall
Birthdate & Date of Loss
| | |
| --- | --- |
| Date of birth: | 1923 |
| Date of death: | May 19, 1955 |
| Age: | ~31 |
Lucky Bag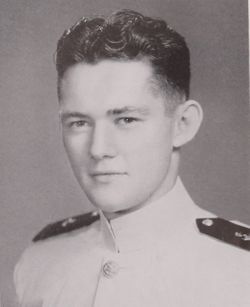 From the 1946 Lucky Bag:
Edward Louis Kennedy

Kankakee, Illinois

Well, if it isn't ole Ed Kennedy himself; lantern jaw, Irish grin, and above all, those great big beautiful ears! This stalwart son of a shamrock was transplanted to the banks of the Severn from the little Irish settlement of Kankakee, Illinois. At the Academy he took an active part in everything, spent a lot of time with a pretty little brown-eyed belle, and still managed plenty of sack drills. The Naval Academy avalanche of academics and other forms of torture showed us that "Edgar" is a guy who can cope with the "system" and anything else the Navy can hand him.
The Class of 1946 was graduated in June 1945 due to World War II. The entirety of 2nd class (junior) year was removed from the curriculum.
Loss
From The Progress-Index of Petersburg, Virginia on May 19, 1955:
NAVY CAPTAIN KILLED IN JET PLANE CRASH

JACKSONVILLE, Fla. The Navy today listed as dead Capt. Albert S. Major, commanding officer of Saufley Field near Pensacola, Fla., and Lt. Edward L. Kennedy, also of Saufley, whose two-place jet crashed Into a swampy area near here Tuesday. Previously they had been listed as missing because parts of two bodies found in the burned wreck age had not been positively identified. The fliers crashed shortly after takeoff from Jacksonville Naval Air Station on a flight to Saufley.
He is buried in Maryland.
Related Articles
Jack Loper '46 was also a member of 4th Company.